Razer Orbweaver Mechanical Gaming Keypad Review
Razer Orbweaver Software
Like most Razer products out there these days, the Razer Orbweaver is designed to be used with the Razer Synapse 2.0 software. No software is included in the packaging, but it can be downloaded through the Razer website.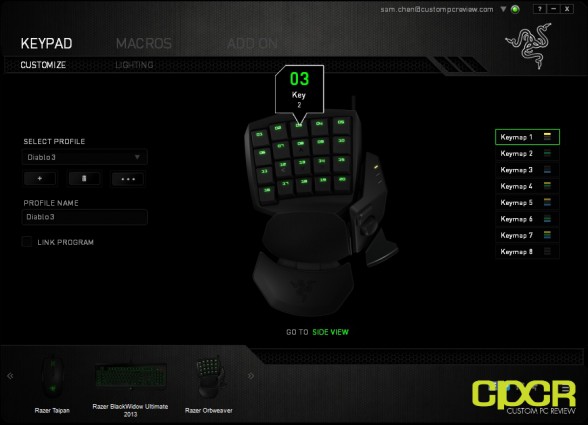 Despite how complicated the Orbweaver looks, it's nothing more than a giant keypad for programming keys and macros, so there's not much to the software. If you've ever used the Synapse 2.0 with any Razer mouse or keyboard, you should feel right at home with the Orbweaver. Simply create a profile on the left, choose a keymap on the right, and click each button to program them individually. By default, the keypad is programmed to act as the left side of the keyboard where you'd normally place your fingers. For example, button 8 is w, button 12 is a, button 13 is s, and button 14 is d. Get the picture?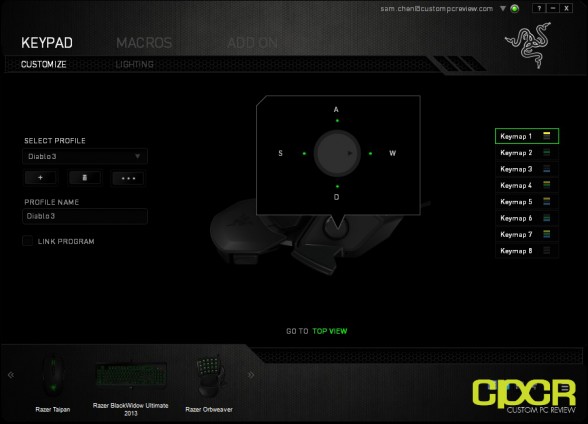 The d-pad along with the two buttons on the side of the keypad are programmable as well. It's interesting using your thumb to walk around in Battlefield 3. Feels different compared to the usual WASD configuration. With the Orbweaver, the options are pretty limitless.
As mentioned earlier, the keys on the Orbweaver are backlit, so you do have the option of changing the lighting settings as well. The options here are fairly basic as you can choose between a couple LED brightness settings along with an option to have the lighting pulsate.