Razer Orbweaver Mechanical Gaming Keypad Review
Who Needs a Keyboard?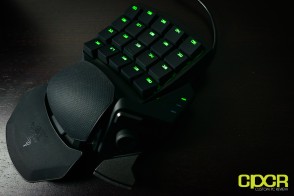 Having been a keyboard/mouse gamer my whole life, I've always been a huge fan of Razer products ever since the days of the Diamondback and the Boomslang, and when Razer unveiled the Nostromo gaming keypad a couple years back, I thought it was possibly one of the coolest peripherals ever. At the time it kinda felt like something that had dropped out of the command center of the USS Enterprise or something as it was something that just seemed like it could be the future of the gaming peripheral.
While I did get to play with demo units of the Nostromo here and there, I never actually ended up owning one, which is why I was so excited when Razer offered me the opportunity to review the Orbweaver.
For those who've never heard of the Razer Orbweaver or the Razer Nostromo, both the Orbweaver and the Nostromo are what Razer calls gaming keypads. As its name implies, it's basically a miniaturized keyboard meant to be used by only one hand. The special thing about the Orbweaver is that Razer is using Cherry MX Blue mechanical keyswitches for the keys, which gives each key a nice, even, tactile and clicky response that's become so popular with the recent surge of mechanical keyboards as of late.
That said then, is the Razer Orbweaver reason enough to forget about the good old keyboard? Let's find out!
Razer Orbweaver Specifications
Full mechanical keys with 50g actuation force
20 fully programmable keys
Programmable 8-way directional thumb-pad
Adjustable hand , thumb, and palm-rests modules for maximum comfort
Instantaneous switching between 8 key maps
Unlimited macro lengths
Stores unlimited game profiles
Backlit keypad for total control even in dark conditions
Synapse 2.0 enabled
Approximate size: 55 mm / 2.17" (Depth) x 154 mm / 6.06" (Width) x 202 mm / 7.95" (Height)
Approximate Weight: 300 g / 0.66 lbs