Review: PowerColor Devil R9 270X 2GB
Unleash the Devil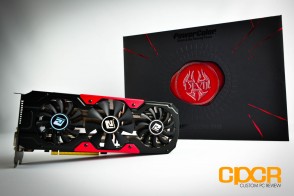 Last week we were blessed with the opportunity to check out MSI's R9 270 Gaming, which is an excellent variant of AMD's recently introduced Radeon R9 270 and this week we'll be checking out a brand new graphics card from PowerColor, the Devil R9 270X. While the Radeon R9 270X and its variants have been released several weeks ago, PowerColor's cards were unfortunately missing from AMD's initial launch, but for those of you who waited, you'll have the option of getting what may possibly be the best R9 270X variant out there.
Today we'll be reviewing the PowerColor Devil R9 270X. As you may expect, the PowerColor Devil R9 270X is quite a special variant of the R9 270X as it comes with a host of features catering to the enthusiast crowd. Among the features we get PowerColor's aggressive custom triple fan four heatpipe cooling solution, which PowerColor claims will provide 17% more airflow, 18% reduction of noise and 25% lower temperatures compared to the reference cooling solution. PowerColor has also implemented what they call the Platinum Power Kit, which is their 7+1+1 digitally controlled power delivery system. PowerColor claims that the Platinum Power Kit aids in higher overclocking potential, provides an additional 20% boost in stability as well as 30% better power efficiency. Of course, what's all that without an overclock from the factory, right? As such, the Devil R9 270X boasts core clocks of 1080MHz (30MHz faster than reference) and carries a memory clock of 1400MHz (5.6GHz effective).
Ready to see the beast PowerColor has unleashed? Let's take a closer look!
Specifications
| GPU | AMD Radeon R9 270 | AMD Radeon R9 270X | PowerColor Devil R9 270X |
| --- | --- | --- | --- |
| Codename | Curacao Pro | Curacao XT | Curacao XT |
| Fabrication | 28nm | 28nm | 28nm |
| Core Clock | 900MHz Base / 925MHz Boost | 1000MHz (Base) / 1050MHz (Boost) | 1000MHz (Base) / 1080MHz (Boost) |
| Stream Processors | 1280 | 1280 | 1280 |
| Texture Units | 80 | 80 | 80 |
| ROPs | 32 | 32 | 32 |
| Memory Buffer Size | 2GB GDDR5 | 2GB GDDR5 | 2GB GDDR5 |
| Memory Interface | 256-bit | 256-bit | 256-bit |
| Memory Frequency | 1400MHz (5.6 GHz Effective) | 1400MHz (5.6 GHz Effective) | 1400MHz (5.6 GHz Effective) |
| Additional Features | Mantle | Mantle | Mantle, Platinum Power Kit, Triple Fan Cooler |