OCZ Vertex 4 256GB, Kingston HyperX 240GB RAID 0 Review
Shattering the 1 GB/s Barrier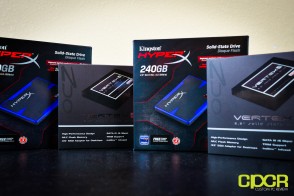 It's no secret that SATA based SSDs these days are bottlenecked by the interface, and when it comes to attaining additional disk performance, you'll either need to move to a PCIe based solution, a thunderbolt solution, or a RAID solution. However, PCIe based solutions are generally quite expensive and the lack of support for for thunderbolt based SSDs makes RAID seem like the best choice of the three.
For those unfamiliar with RAID and what RAID does, RAID stands for "Redundant Array of Independent Disks". In simpler terms, RAID allows you to use multiple disks in order to achieve certain functionality with multiple disks. While most RAID setups involve some form of redundancy, what we'll be testing here today is RAID 0 performance. In order to continue on about RAID 0, we'll need to discuss what RAID 0 is first. While pages and pages may be written on RAID, the most basic way to think about RAID 0 is splitting the data onto two drives. Basically by giving each drive half the data, then we can theoretically expect twice the performance, right?
Now, before we begin the performance testing, there are a couple things which prompted me to write this article that I'd like to share with you.
The requests. For those who requested the article, here you go. Enjoy!
Intel recently released a new version of Rapid Storage Technology (v11) which enables the TRIM command when used on Intel Series 7 chipsets (such as the Z77 chipset). Previously with older Intel RST drivers (v10), RAID wasn't exactly ideal since the TRIM command doesn't properly pass onto the drives, which means as data is continuously written, deleted, and overwritten, performance will degrade significantly. However, the new RST drivers (v11) in combination with the Intel Series 7 chipset will allow the TRIM command to properly function, which means performance will be unaffected over time.
Taking a look at SSD prices lately, pricing for 240GB/256GB class SSDs have been dropping a lot across the board while pricing for 480GB/512GB class SSDs for a number of manufacturers haven't dropped quite as much. This means those looking for 480GB/512GB class SSDs may be able to attain far greater performance without much difference in cost through the use of two 240GB/256GB class SSDs in RAID 0.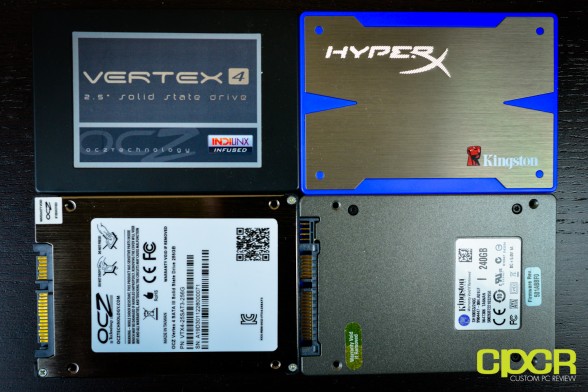 Today, we'll be doing some RAID 0 performance testing on the OCZ Vertex 4 256GB and the Kingston HyperX 240GB. As this is more RAID 0 performance testing rather than a full fledged review (although titled as review), we'll be jumping right into performance shortly. For more details on each of the SSDs being tested today (interior and exterior product shots, accessories, extraneous details, etc.), please be sure to visit each SSD's respective full standalone review.
| | | | | |
| --- | --- | --- | --- | --- |
| Manufacturer | OCZ | OCZ | Kingston | Kingston |
| Model | Vertex 4 | Vertex 4 | HyperX | HyperX |
| Capacity | 256GB | 512GB | 240GB | 480GB |
| Controller | Indilinx Everest 2 | Indilinx Everest 2 | SandForce SF-2281 | SandForce SF-2281 |
| NAND | 25nm IMFT Synchronous MLC (3,000 P/E) | 25nm IMFT Synchronous MLC (3,000 P/E) | 25nm IMFT Synchronous MLC (5,000 P/E) | 25nm IMFT Synchronous MLC (5,000 P/E) |
| Sequential Reads | 560 MB/s | 560 MB/s | 555 MB/s | 540 MB/s |
| Sequential Writes | 510 MB/s | 510 MB/s | 510 MB/s | 450 MB/s |
| Interface | SATA 3 6GB/s | SATA 3 6GB/s | SATA 3 6GB/s | SATA 3 6GB/s |
| Warranty | 5 Years | 5 Years | 3 Years | 3 Years |