NZXT Switch 810 Gunmetal Hybrid Tower Case Review
Special Edition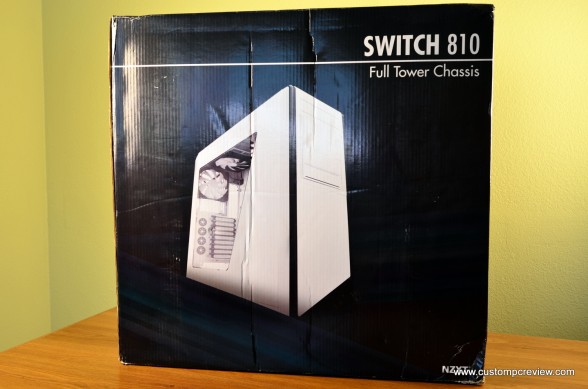 5-10 years ago, NZXT cases weren't well known at all. They had some innovative, but seriously crazy looking case designs such as the NZXT Guardian Green, which (may be due in part to its craziness) to this day is still a case I remember from the days when I was still in high school.
Over recent years, it seems like NZXT has gone a tad bit more conservative in their designs, but are still bringing plenty of innovation to the table. These days, NZXT is considered a top brand among PC builders with well many well known products such as the NZXT Phantom, the NZXT Sentry, and many more.
Today we'll be taking a look at one of NZXT's newest cases to hit the market – the Switch 810. Instead of pursuing eyebrow-raising designs with this case, NZXT went with a more traditional, more modest look. With no crazy front covers, crazily carved vent holes, light shows, or an exotic paint job, the Switch 810 is just looking to get the job done. Marketed as a "Hybrid" case (hence why it's named the "Switch"), the Switch 810 is optimized for water cooling, high air flow, or silence. At first glance, you'll probably only notice the huge side panel window. Seriously. Look at the box art. Looks like a plain white case right? Well, yeah you'd be right, but take a look on the inside and you'd be very pleasantly surprised.
Specifications
| | |
| --- | --- |
| MODEL | Switch 810 |
| CASE TYPE | Hybrid Full Tower |
| FRONT PANEL MATERIAL | Plastic/Steel |
| DIMENSIONS (W x H x D) | 235 x 595 X 585 mm |
| VGA Clearance Maximum | 375mm (w/out fan), 350 (installed), 285 (full pivot) |
| COOLING SYSTEM | FRONT, 2 X 120/140mm (1x 140mm included)REAR, 1 X 120/140mm (1x 140mm included)TOP, 3 X 120/140mm (1x 140mm included)BOTTOM, 2x 120/140mmINTERIOR, 2x 120/140mm (1x 140mm included)SIDE, Large acrylic window |
| DRIVE BAYS | 4 EXTERNAL 5.25″ DRIVE BAYS6 INTERNAL 3.5″ DRIVE BAYSScrew-less Rail Design |
| MATERIAL(S) | Steel, Plastic |
| EXPANSION SLOTS | 9 |
| WEIGHT | 14.42 kg |
| MOTHERBOARD SUPPORT | E-ATX, XL-ATX, ATX, MICRO-ATX, Mini-ITX |