Noctua NH-L12 Low Profile CPU Cooler Review
Noctua Goes *Ultra* Low Profile
Since 2005, Noctua has been producing some of the most well known cooling products in the PC accessory market. Their most well known products are quiet fans and very large CPU coolers designed to be used by extreme PC enthusiasts who want to get the absolute most out of their air cooling solution. Today however, we're going to be looking at something a bit smaller and a bit more compact from Noctua – the NH-L12 Low Profile CPU cooler, which is catered towards smaller form factor PCs such as mITX, mATX, HTPCs, etc. While there are similarly styled coolers on the market (even some from Noctua), most of those don't go as far to cater to the small form factor crowd.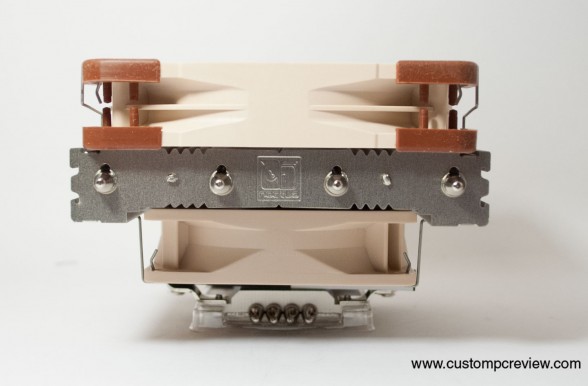 The NH-L12 isn't your standard tower cooler as it's built on the design idea that less is more. It's built to be used in small, tight spaces such as small form factor computers, or SFF for short. As I said earlier, this cooler is styled similarly to other coolers on the market, as it is what's generally called a C-style cooler. As you may imagine, the name is indicative of it's C like shape. You have four heat pipes bending in an arch leading to the aluminum fins that sit directly above the base of the cooler. The NH-L12 is even capable of being used on a Mini-ITX system without needing a backplate. The NH-L12 CPU cooler features one 120mm fan, as well as one 92mm fan, four copper nickel plated heat pipes, as well as a standard six year warranty provided directly through Noctua.
Before I go too far into this cooler, I want everyone to understand that Noctua has tried to make it very clear that this heatsink is not designed for an overclocked system. They have gone on record and made this statement:
Caution: The NH-L12 is a low-profile quiet cooler designed for use in small form factor cases and HTPC environments. While it provides first rate performance in its class, it is not suitable for overclocking and should be used with care on CPUs with more than 95W TDP (Thermal Design Power). Please consult our TDP Guidelines to find out whether the NH-L12 is recommended for your CPU.