Logitech Ultimate Ears 6000 Headphone Review
Ultimate Ears for the Modern Age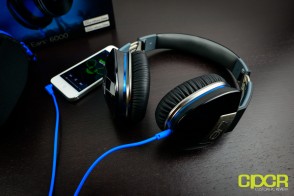 When Logitech originally purchased Ultimate Ears back in 2008, one of the main concerns for consumers is that Logitech, being primarily a consumer focused company, would gradually turn the more enthusiast/audiophile oriented Ultimate Ears product line into more of a general consumer oriented product line, thus killing the Ultimate Ears reputation as a producer of high quality, high end audio equipment.
While in many ways the Ultimate Ears brand has definitely expanded from its original highly specialized audio equipment niche into the more general consumer market, I feel like Logitech has nevertheless done a great job with the Ultimate Ears name, carrying on the vision of its founders at the high end yet continually sharing the experience with a much greater audience.
When it comes to unveiling new products, it seems like Logitech has been taking the unveil a whole ton of stuff at once approach lately and only a couple months back, Logitech unveiled a whole new line of Ultimate Ears products including in ear headphones, speakers, and headphones.
Today we'll be reviewing one of the most recently introduced headphones, the Logitech Ultimate Ears 6000. The UE 6000 is a very new category of products for Ultimate Ears as it's not only an over the ear headphone, but it also features noise cancellation – both of which are features never before seen in the Ultimate Ears lineup. The Ultimate Ears lineup has traditionally been in ear headphones and in ear monitors (IEMs), so I'm definitely excited that Logitech is unveiling these new series of products in their upscale brand.
Ready to hear how well these headphones did? (No pun intended) Flip the page to find out!
Logitech Ultimate Ears 6000 Features & Specifications
40mm custom made, laser tuned drivers

UE sound signature
Active noise cancellation
Memory foam ear cushions
Around the ear design
On-cord music/call controls and microphone
Music sharing splitter
Folding design
Zippered travel pouch included