Das Keyboard Model S Professional Silent Review
The Keyboard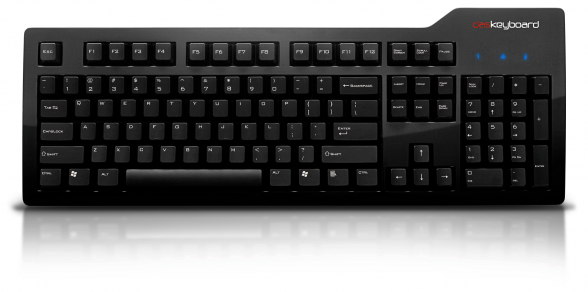 Das Keyboard began as a pretty interesting idea. In 2005, the founder, Daniel Guermeur decided to make a totally blank keyboard in order to improve his typing speed and accuracy. To his surprise, this idea worked and Daniel began seeing his typing speed and accuracy improve. As many of his friends and colleagues noticed the keyboard, they became interested in getting such a keyboard and pretty soon the money making potential of this keyboard was obvious. As such, the the Das Keyboard was born.
Fast forward to today and Metadot Corporation, the company behind the Das Keyboard, has produced numerous revisions of their Das Keyboard such as the Model S Ultimate, Model S Professional, Model S Professional Silent, and Model S Ultimate Silent. Each of these keyboards have their own unique features but are based on the central idea of building the best typing keyboard in the world. Today, we will be reviewing the Das Keyboard Model S Professional Silent. Unlike the Das Keyboard Model S Professional which uses Cherry MX Blue clicky keyswitches, the Das Keyboard Model S Professional silent uses Cherry MX Brown keyswitches, which still retains the tactile bump of the Cherry MX Blue keyswitches, but doesn't make the clicky sound upon actuation.
Specifications
Key Information
Cherry MX brown mechanical key switches with gold contacts (soft tactile)
Laser-etched key cap inscriptions to prevent fading
Full n-key rollover with a PS2 adapter, and 6 keys with USB
Enhanced 104-key layout
Two Windows keys
Technical Information
Glossy black upper enclosure with matching black USB cable – Darth Vader approved
Two-port USB hub 1.1 and 2.0 compatible
Blue LEDs
Extra long two-meter (6.6-foot) USB cable
Even More Information
Dimensions: 18in x 6.5in x 1in (thickest portion, feet not extended, 1.5in w/ extended feet)
Weight: 1.36 kg (3 lbs)
Compatible with PS/2 and USB KVM switches.
System Requirements
PC or Mac, Windows, Linux, or Mac OS X
2 USB ports or 1 USB port + 1 PS/2 port – USB to PS/2 adapter (included)
No driver required
Mac users can swap the command/control/options keys to match the Mac keyboard layout using the Mac OS X keyboard control panel