Creative Sound Blaster Tactic 3D Rage Review
Rage On!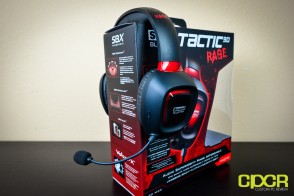 It seems like Creative is following the "if it ain't broke, don't fix it" mantra for their latest Tactic 3D lineup of gaming headsets. For a company with a name that literally implies innovation, this comes across as a little strange for me. In fact, the headsets in the Tactic 3D lineup look so similar that when Creative sent me the Tactic 3D Rage to review I had to double check the box to make sure that they didn't ship a Tactic 3D Wrath by mistake – they didn't.
I thought that since the Tactic 3D Rage doesn't seem to substantially deviate from the Wrath aside from having an angrier name, it's probably packing something special on the inside, right? Well, not really. After reading the specifications sheet, the Tactic 3D Rage is fairly identical to the Tactic 3D Wrath. Everything from the 50mm neodymium drivers, microphone type, and frequency response are all pretty much identical with the exception that the model we have here is the wired edition, with Creative also offering a wireless edition of the Tactic 3D Rage as well. The only noticeable difference between the two is that the Tactic 3D Rage has programmable earcup lighting and has a newer SBX pro software. Nice.
So with these all these similarities, is the Tactic 3D Rage actually going to be all the rage? Keep on reading to find out.
Sound Blaster Tactic 3D Rage Specifications
Headphone
| | |
| --- | --- |
| Driver Units: | 50mm Neodymium magnet |
| Frequency Response: | 20Hz ~ 20kHz |
| Impedance: | 32ohms |
| Sensitivity: | 102dB/mW |
Microphone
| | |
| --- | --- |
| Microphone Type: | Noise-cancelling condenser |
| Frequency Response: | 100Hz ~ 6.5kHz |
| Impedance: | <2.2kohms |
| Sensitivity: | -40dBV/Pa |
Interface
| | |
| --- | --- |
| USB Transmitter: | USB 1.1 or 2.0 port |
| Wireless Technology: | Uncompressed 2.4GHz ISM band |