Corsair Neutron GTX 120GB SSD Review
A New Contender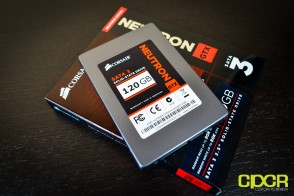 Not that long ago, when you went out to purchase a new SSD, there were quite a number of choices on the market in terms of brands, but the core components in terms of NAND flash memory and controller were generally the same. On the controller end, we generally had SandForce and Marvell being pretty much the only major players, and on the NAND side, we generally see some offering from IMFT or Toshiba/SanDisk. There's very little variation here, and especially with many companies opting to use vanilla firmware on the controllers, there really isn't much of a difference going with one SSD manufacturer over another.
Since it's not possible for 2nd tier SSD manufacturers (manufacturers who don't own their own NAND foundries) to develop and produce their own, unique NAND flash memory, the logical step for a 2nd tier SSD manufacturer to differentiate itself is through unique SSD controller technology be it through the hardware or the firmware.
This then brings us to our review for today, the Corsair Neutron GTX 120GB SSD. For those who haven't kept up to date with new SSDs lately, Corsair recently unveiled two brand new SSDs using an exclusive SSD controller from Link_A_Media Devices (LAMD). These SSDs would fall under the Neutron and Neutron GTX line and while both SSDs use the exclusive LAMD LM87800 controller, the Neutron series SSD would be using Synchronous NAND while the Neutron GTX would be using slightly faster Toggle Mode NAND.
Corsair Neutron GTX Specifications
| | | | |
| --- | --- | --- | --- |
| Manufacturer | Corsair | Corsair | Corsair |
| Model | Neutron GTX | Neutron GTX | Neutron GTX |
| Capacity | 120GB | 240GB | 480GB |
| Controller | Link A Media LM87800 | Link A Media LM87800 | Link A Media LM87800 |
| NAND | 24nm SanDisk/Toshiba Toggle Mode MLC | 24nm SanDisk/Toshiba Toggle Mode MLC | 24nm SanDisk/Toshiba Toggle Mode MLC |
| Sequential Reads | 555 MB/s | 555 MB/s | 555 MB/s |
| Sequential Writes | 330 MB/s | 511 MB/s | 511 MB/s |
| Interface | SATA 3 6GB/s | SATA 3 6GB/s | SATA 3 6GB/s |
| Warranty | 5 Years | 5 Years | 5 Years |