CM Storm QuickFire TK Review
Tenkeyless Formfactor with All Ten Keys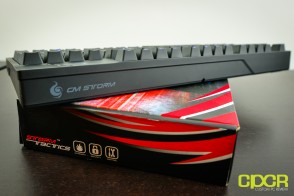 Last year, we reviewed the CM Storm QuickFire Rapid which offered the tenkeyless formfactor for portability, but came at the expense of a missing tenkey pad, and although we liked how it could be stuffed into our backpacks effortlessly, we definitely missed having the number pad when it came to working with excel spreadsheets.
If only someone could make a tenkeyless formfactor mechanical keyboard with a tenkey pad…
So before 2012 rolled to a close, Cooler Master handed us what they call the CM Storm QuickFire TK packed with Cherry MX blue keyswitches for us to review. In case its name hasn't given it away yet, the QuickFire TK features the tenkey pad, but that's not all. It also features the tenkeyless formfactor of the CM Storm QuickFire Rapid.
Confused and wondering what a tenkeyless keyboard with a tenkey pad even looks like? Let's jump in and take a look at what Cooler Master has created.
Features and Specifications
Model
SGK-4020-GKCR1 (Red switch)
SGK-4020-GKCM1 (Brown switch)
SGK-4020-GKCL1 (Blue switch)
Key Switch
Cherry MX Blue/ Brown/ Red
Keycaps
ABS, grip coated, removable
Keycap Puller
Yes, ring-puller
Backlighting
All keys, Red, 5 Levels, 3 Modes
Key Rollover
NKRO (windows only)
Polling Rate
1000 Hz /1 ms
Interface
USB 2.0 full speed
USB Cable
1.8m, braided, gold plated, removable
Dimension
377.5(L)*138(W)*33(H)mm14.9(L)*5.4(W)*1.3(H)inch
Weight
544 g/1.2 lbs
Warranty
2 years
UPC Code
884102017971 (SGK-4020-GKCR1 Red switch)
884102017926 (SGK-4020-GKCM1 Brown switch)
884102017940 (SGK-4020-GKCL1 Blue switch)