Best CPU Cooler Roundup Review Feat. Corsair, Cooler Master, Noctua, Phanteks, Zalman
Conclusions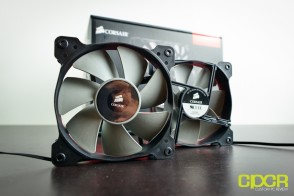 Starting with the two water coolers, these are definitely going to be the top tier in terms of cooling performance short of a fully custom water cooling loop. Let's talk about the Corsair H100i. There's no debate here. Corsair pretty much popularized the all in one water cooling coolers and well, they're still the leader in the category. Period.
Performance is top notch and the "polish" on the H100i definitely feels like a product that's been perfected through experience. Build quality is fantastic, tubing is nice and thick, the mounting mechanism is top notch, and overall the H100i is simply solid. The only problem I found was a firmware glitch (as of 1.0.4) that's making the fans squeal when connected to the pump, but this issue disappears when the fans are connected via the motherboard headers, so it's not a huge problem. That said, you do lose the ability to control the fans via Corsair Link, but I am told a firmware update is in the works and should be available shortly if it isn't available already.
"Beginning in late December, all H100i and H80i units have been shipping with PWM fans which have resolved the issues that people were having with buzzing. We have a fix for people who received earlier production units, which should be available in early February. This fix will include the new PWM fans and a firmware update. Once the fix becomes available we will post the instructions for getting the fix on our cooling forum, found here: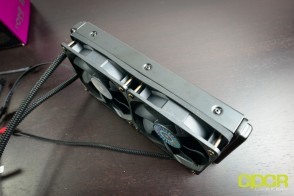 Alright, so let's talk about the new kid on the block – the Cooler Master Seidon 240M. This is a relatively new cooler by Cooler Master introduced only a few weeks ago; however, it's definitely the most surprising cooler of the bunch. Despite the Seidon 240M being Cooler Master's first entry into the all in one water cooling market, they were able to pull off performance numbers identical to the Corsair H100i. Given the fact that the H100i is already in its second generation, Corsair having years of experience with all in one water cooling setups, and it's using higher RPM fan, that to me is very impressive.
Build quality with the Seidon 240M was good, but the product definitely doesn't feel as polished as Corsair's H100i. The mounting mechanism was definitely a bit more difficult than it needed to be and the packaging could use a bit of labeling, but overall it's a very solid offering for something that can be called Cooler Master's first. I'm definitely very interested in seeing what Cooler Master will introduce in the following months when the Seidon 240M becomes a second, third or fourth generation product.
That said, the Corsair H100i and Cooler Master Seidon 240M were both neck to neck in terms of performance, but were able to defeat all the top air coolers tested today by a decent margin. Definitely be aware however, that both these coolers are using significantly higher powered and significantly noisier fans than those found on the air coolers tested today so unless you're prepared to bear the noise, prepared to purchase new fans, or prepared to just keep the fans running at a maximum of 1400 RPMs, the air coolers may be what you're looking for.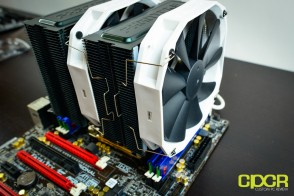 Speaking of air coolers then, let's first talk about the Phanteks PH-TC14PE. Since the last year when I first tested it, Phanteks has released a new revision of the cooler, but there really hasn't been much of a change other than the fans. Phanteks claims that the new fans are now quieter and they perform better, but I think they're fairly on par with what came before it. In terms of build quality though, I think the fans are more sturdy and solid than before, which is still a plus in my book especially when the price of the cooler hasn't changed. Performance wise, the PH-TC14PE performed on par with the other air coolers which were beat by the all in one water coolers, but again do remember that the all in one water coolers are using fans that spin at twice the speed of the fans on the PH-TC14PE. Build quality on the PH-TC14PE is still phenomenal, and I'm extremely happy Phanteks decided to release a black version of their cooler as it looks gorgeous when mounted on any high performance motherboard.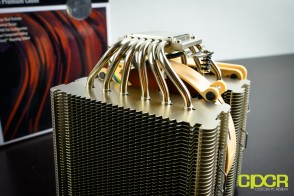 The Noctua NH-D14 SE2011 is simply a classic as the NH-D14 SE2011 is just a NH-D14 with LGA 2011 hardware. Personally, I'm not too happy about this as it decreases its versatility in case you wanted to mount the cooler on something other than a socket LGA 2011 motherboard. That said, mounting kits are available for purchase if you want to mount the cooler on something other than a LGA 2011 socket motherboard. In terms of performance, the NH-D14 is still head to head with all the other flagship air coolers we've tested today, so there's no change here. One thing about Noctua products though is the fact that every hardware bag is individually labeled and the construction of the cooler is simply top notch. It looks and feels like a top quality product, which is probably why it's still so good despite being released some time ago. That said, the Phanteks PH-TC14PE does have an edge in that there are different colors to choose from while you're going to have to take the tan and brown on the NH-D14.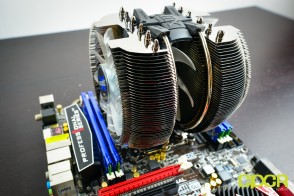 The final air cooler tested is the Zalman CNPS 12X and if I had an unique product award somewhere, this'll be the product that'll get it. After testing a number of coolers on the market, most cooler companies are fairly set on the square shaped tower coolers, but Zalman breaks the mold to create a round shaped cooler that actually performs very comparably to the best Noctua and the best Phanteks has to offer. Build quality is top notch on the CNPS 12X as well, but Zalman definitely didn't think much about mounting the cooler as it had one of the most difficult installation processes of all the coolers tested today. Additionally, the CNPS 12X has fixed fans on the cooler itself, which is probably why it's so quiet as there isn't a frame to produce turbulence, but this also means that the fans are not replaceable should they fail.
| | Type | Fans | Price | Purchase Link |
| --- | --- | --- | --- | --- |
| Intel BXRTS2011AC (Reference Only) | Air | 1x100mm (3,000 RPM) | $21.80 | Click Here |
| Corsair H100i | Water (240mm Radiator) | 2x120mm (2,700 RPM) | $109.99 | Click Here |
| Cooler Master Seidon 240M | Water (240mm Radiator) | 2x120mm (2,400 RPM) | $97.50 | Click Here |
| Phanteks PH-TC14PE (Black) | Air (5x8mm Heatpipes) | 2x140mm (1,300 RPM) | $89.99 | Click Here |
| Noctua NH-D14 | Air (6x6mm Heatpipes) | 1x120mm (1,200 RPM)1x 140mm (1,300 RPM) | $79.95 | Click Here |
| Zalman CNPS 12X | Air (6x6mm Heatpipes) | 3x120mm (1,200 RPM) | $79.54 | Click Here |
Taking a look at pricing, all the coolers tested today range between ~$80 and ~$110, a difference of a ~$30 between the most expensive and least expensive cooler. As a product reviewer, I don't say this often, but I think every product tested today brought something to the table in terms of features and performance which I think is a good step in general for the industry as a whole. No longer are we seeing ridiculously priced, poor performing coolers being sold on the market, which is a good thing. Natural selection at its best.
Had I reviewed each of these coolers individually, each would've netted either a gold or silver award as they've all performed very well and were able to do as advertised – keep temperatures down despite a fairly significant overclock on the processor. However, since it's a roundup, I'll only be awarding the coolers which I think stand out from the rest. Believe me, this was a tough choice to make.
For maximum performance, the Corsair H100i or the Cooler Master Seidon 240M are both excellent choices. However, I feel like the Corsair H100i is a more refined product (build quality, presentation) than the Cooler Master Seidon 240M at this point. The Seidon 240M is still a strong contender though with the performance figures to back it up and is one helluva impressive first generation product.
For those who favor a more quiet computing experience or those who don't necessarily like the all in one water cooling setups, the air coolers still performed great as well. Of the air coolers, you can't really go wrong with any of them, but my choice cooler here is the Phanteks PH-TC14PE. Performance is fantastic, installation is as easy as it gets, it's very quiet, it's aesthetically pleasing with its different color options, and the product simply has a very strong, very premium feel to it.
Therefore, in our cooler roundup for today, I'm going to award both the Corsair H100i and the Phanteks PH-TC14PE with CPCR Certified Gold.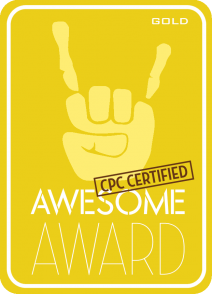 Samples provided by: Corsair, Cooler Master, Noctua, Phanteks, Zalman