Best CPU Cooler Roundup Review Feat. Corsair, Cooler Master, Noctua, Phanteks, Zalman
Performance
Testing Setup
Sandy Bridge-E Test Bench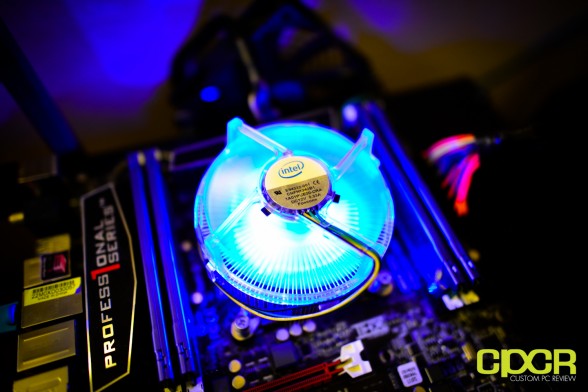 Despite Intel's introduction of Ivy Bridge back in 2012, the Sandy Bridge-E processors still maintain the performance crown when maximum processing capacity is necessary. For our testing of top end coolers then, we've decided to use our top end Sandy Bridge-E system as well. For reference, we've also included the Intel "stock" air cooler, the Intel BXRTS2011AC. That said, with LGA 2011 processors, an actual "stock" cooler isn't included and must be purchased.
Special thanks to Intel, ASRock, Kingston, OCZ Technology, ARCTIC and HSPC for sponsoring our test bench!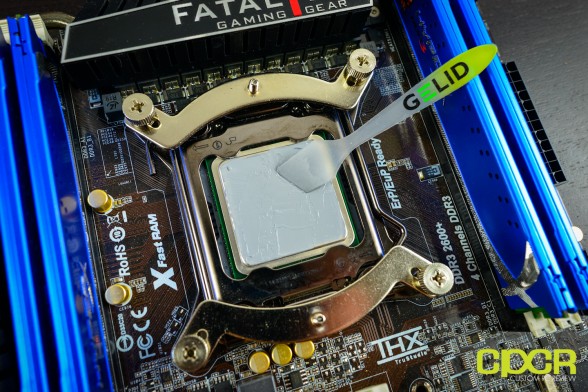 In order to produce consistent results across the board, we'll be using the ARCTIC MX-4 Thermal Compound applied in a thin, even layer with a Gelid applicator. Each time a CPU cooler is switched out, the old thermal compound is removed completely and fresh thermal compound is applied.
After thermal compound application, the CPU is set to 4.4GHz and burned in for 30 minutes to allow the thermal paste to settle. The CPU is then shut off for a minimum of 5 minutes then turned back on for testing. In order to generate the maximum amount of heat possible, all tests are conducted with Prime 95. Two 30 minute tests are run at both the stock clocks (3.6GHz) as well as overclocked clocks (4.4GHz). Again, between each of the tests, the computer is shut down for a minimum of 5 minutes to allow for the CPU to cool down between tests.
Results
All temperatures measured are average temperatures across all six cores. Temperatures are measured using HWMonitor and the maximum temperature on each core is used. Ambient temperatures are taken using a calibrated Extech EA10 Dual Probe Thermometer at each cooler's fan intake.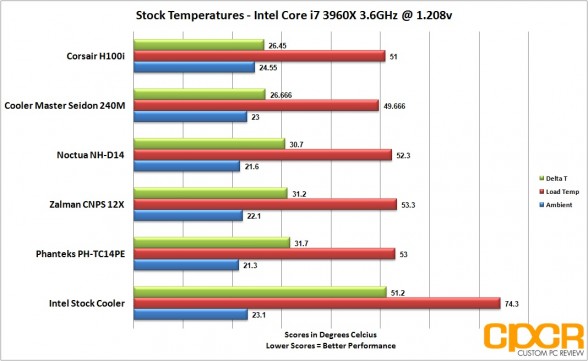 At stock clocks, all the high end coolers perform relatively similar; however, the two all in one water CPU coolers led the pack keeping the CPU at a delta of ~26°C, roughly ~5°C cooler than the air coolers. The Phanteks PH-TC14PE in this case performed worst here with a delta of 31.7°C, but all results from the air coolers were within a single degree, which is well within the margin of error.
In comparison to the Intel's stock air cooler, each cooler tested today performed about 20°C better.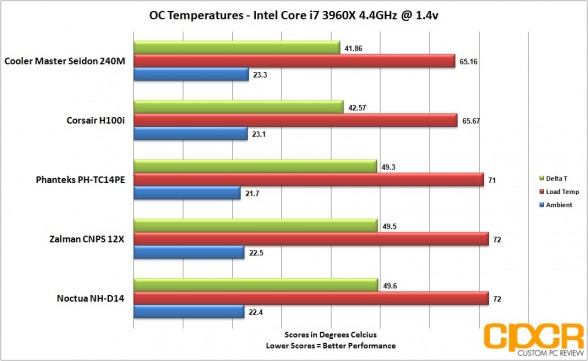 Moving onto some overclock testing, once again the results are similar to what we've seen with stock clock testing. The all in one water coolers led the pack with a delta of ~42°C. All the air coolers this time performed roughly the same once again, but they ran roughly ~7°C warmer than the two AIO water coolers tested today. Surprisingly all the air coolers again ran within a single degree of each other despite the different designs.
Unfortunately, I was unable to get any usable numbers with the Intel stock cooler as I was unable to complete the overclocking test. Once overclocked, the temperatures quickly soared above 85°C which started causing system instability.
Noise
All noise testing is conducted with a calibrated Extech 407750 Sound Level Meter. The minimum noise floor on the sound level meter is 30dB, so testing will be conducted with the sound level meter placed on a tripod approximately 1 ft from the fans. Since a lot of us generally sit farther than 1 ft from a PC, I've also estimated what the sound level might be at 3 ft as well. For those interested in learning more about this estimation process, be sure to check out this link here.
All results are reported in decibels (dB). Those interested in learning more about dB, be sure to check out the link here.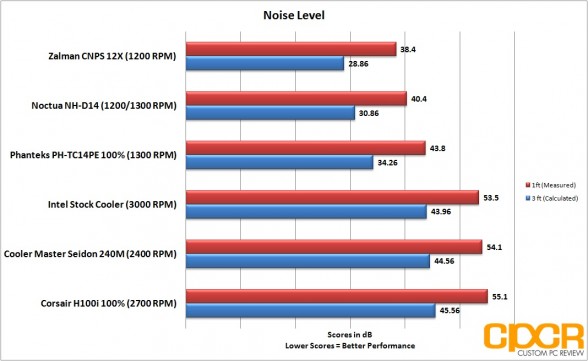 As far as noise performance, the two all in one water coolers were the loudest coolers of the bunch pushing over 10dB louder than the loudest air cooler in the roundup. (Not including the Intel stock cooler, of course) This definitely makes sense as the Seidon 240M is using dual 2400 RPM fans while the H100i is using dual 2700 RPM fans, both of which double or more than double the fan rotation speed of the air coolers tested today. The only exception to this is the Intel stock cooler, which ran at a whopping 3,000 RPMs and as you imagine is extremely loud and annoying.