Best CPU Cooler Roundup Review Feat. Corsair, Cooler Master, Noctua, Phanteks, Zalman
A Closer Look
Noctua NH-D14 SE2011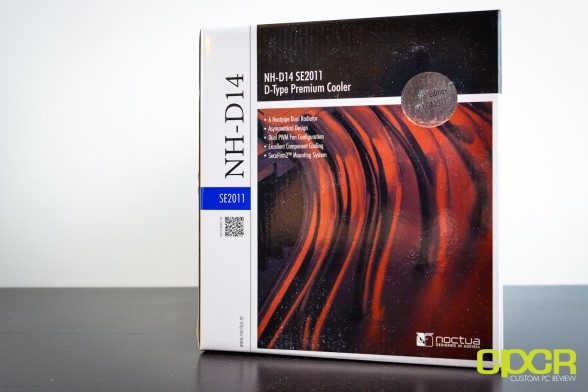 Here's a look at the packaging for the Noctua NH-D14 SE2011. It's pretty much a simple white box, but definitely watch out for the SE2011 branding. The SE2011 only supports LGA 2011 while the non-SE2011 one supports practically everything else. Why Noctua didn't just add support for LGA 2011 with their standard NH-D14 I have no idea, but you'll definitely want to watch out for the SE2011 branding if you're buying the NH-D14 for the LGA 2011 socket (and vice versa if you're not).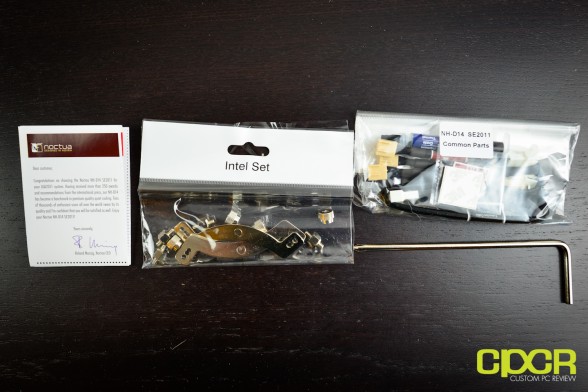 Like always, Noctua's packaging is absolutely top notch. Each bag is individually labeled/packaged, instructions are amazing, and they've also included a little screwdriver for you just in case you don't have access to one for installation. Whenever you deal with a Noctua product, the packaging itself simply lets you feel like you've purchased a high end product. Way to set the standard, Noctua.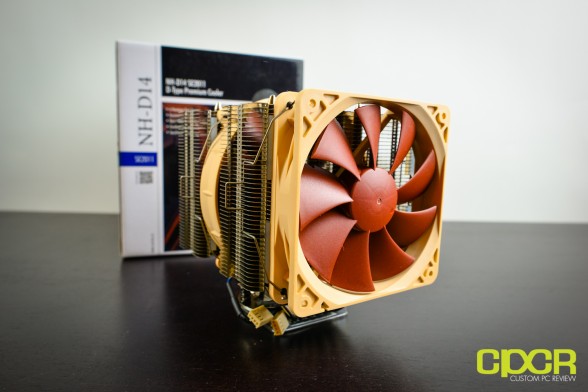 For those who wondered why the NH-D14 SE2011 box was so big, it's because Noctua ships the NH-D14 SE2011 with the fans pre-mounted on the cooler. This way, you know exactly how the fans should be mounted, which is a nice touch since you do need to figure all this out on other coolers. It's generally not a difficult process, but it's always nice when something is done for you straight from the factory. Again, it's all about that premium feel, which Noctua excels at.
What's interesting about the NH-D14 SE2011 is that Noctua went with a NF-P14/NF-P12 fan configuration which uses a combination of a 120mm fan up front and a 140mm fan in the center rather than two 140mm fans or two 120mm fans.
Each fan on the NH-D14 SE2011 is a 4 pin PWM fan, so the fans may be controlled via the motherboard. Noctua does a ton of research in producing fans that are both quiet and perform well, which is why 4 pin PWM fans are a staple on their coolers.
Here's a look at the base of the cooler. As expected, the machining is fantastic and the base is absolutely huge, which is great for the LGA 2011 processor as the processor itself is huge as well. This allows more surface area to touch the CPU therefore dissipating the maximum amount of heat.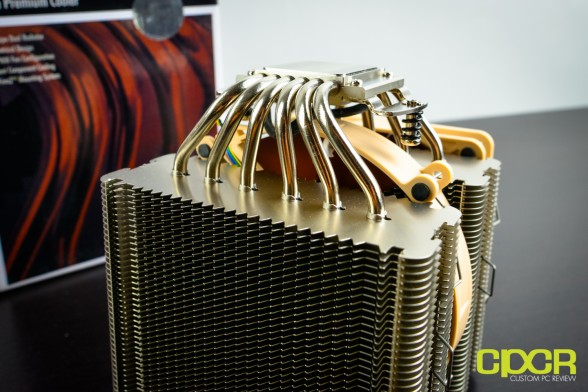 The NH-D14 SE2011 also includes a full array of six 6mm heatpipes for bringing heat away from the base. As you can see, Noctua is practically maxing out the amount of heatpipes as there physically isn't any room for more heatpipes to be integrated onto the base.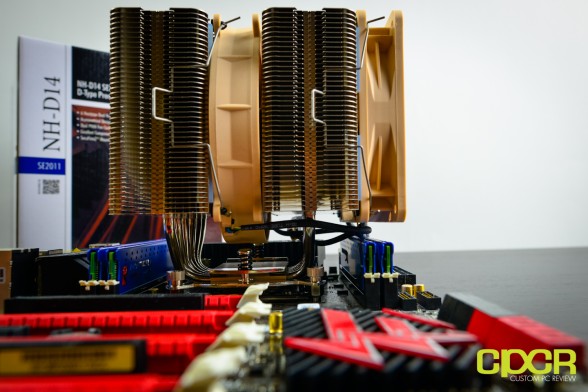 Like the Phanteks PH-TC14PE, there's very little zero room for higher profile memory, so definitely be sure to purchase some low profile memory if you're planning to use this cooler just to be on the safe side. The Noctua NH-D14 is a massive cooler, so even if you had beautiful heatsinks on your memory, there really isn't much of a point as you probably wouldn't see it.