ADATA DashDrive Air AE400 Wireless Storage Reader Review
Hotspot, Storage Reader, Power Bank. All in One.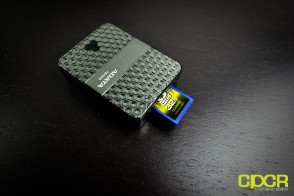 Over the past couple years, a number of companies that have traditionally been geared towards producing computer hardware have shifted their focus a bit to the mobile device market and have unveiled wireless storage devices aimed at mobile users. These devices are generally battery powered and include some sort of wireless functionality that allow PCs and mobile devices to connect to them. Kingston for example has the Wi-Drive, Patriot has their Gauntlet, Corsair recently introduced their Voyager Air, and now ADATA has the DashDrive Air. While all of these devices serve a similar purpose, they all have unique features that set them apart.
Today we'll be reviewing the recently introduced ADATA DashDrive Air AE400, which ADATA describes as a "wireless storage reader and power bank". Unlike most of the wireless storage devices on the market, the ADATA AE400 doesn't include any sort of internal storage and relies solely on either external USB drives or SD cards for storage instead. This is why ADATA refers to the AE400 as a wireless storage reader rather than a wireless drive. Additionally, ADATA also describes the AE400 as a power bank as well. This is because the AE400 also comes equipped with a 5000 mAh internal battery and is capable of charging mobile devices through its USB port.
With that said, does ADATA offer something truly unique with the AE400? Let's find out!
ADATA DashDrive Air AE400 Specifications
Manufacturer
ADATA
Model
DashDrive Air AE400
Ports
Micro-B USB (data transmission & battery charging), USB AF (host port for UFD/portable HDD or Power Bank function), SD card (for SD/SDHC/SDXC)
Battery
Li-Polymer 5000mAh rechargeable battery
Dimensions (L x W x H)
80 x 59 x 21mm (3.1 x 2.3 x 0.8in)
Weight
128g
Wireless
802.11b/g/n
Warranty
1 Year