The Best Solid State Drive (SSD) of 2017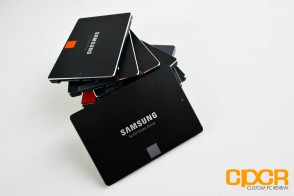 Building a new PC? Putting the final touches on a PC you already own? Laptop or notebook need a little speed boost? Well, then you're in the right place because here we'll take you through what we think are the best SSDs of 2017.
Here we'll sort through hundreds of different SSDs to give you a recommendation on the best drives available for the money. As always, because we review a lot of computer hardware here at CPCR, most of our recommendations will be either from our own experience with the SSDs or the experiences of one of our many colleagues from other publications. As such, all SSDs recommended here have been thoroughly researched and are what we feel to be the best for the money.
Best Enthusiast PCIe SSD
Samsung 960 PRO
If you want the absolute highest performing consumer SSD out on the market today, there's really only one choice and that's Samsung 960 PRO.

Rated at up to 3.5GB/s sequential reads and up to 2.1GB/s sequential writes, the Samsung 960 PRO shattered every single benchmark we threw at it when we reviewed it back in late 2016. Of course, performance is only one piece of the equation. In addition to being the fastest SSD on the market, the Samsung 960 PRO also offers the highest capacity for a consumer M.2 PCIe SSD with drive capacities of 512GB, 1TB and 2TB. Of course, that's not all. The Samsung 960 PRO also features a an industry leading 5 year warranty, up to 1.2PBW (Yes, PetaBytes Written) of endurance and the Samsung Magician software suite, the best SSD software suite available on the market today.

If you must have the best, there's simply no equal to the Samsung 960 PRO.
Best Enthusiast SATA SSD
Samsung 850 PRO
Although the Samsung 850 PRO launched several years ago, it still holds the title as the fastest SATA SSD we've reviewed to date.

Featuring capacities of up to 2TB, the Samsung 850 PRO is capable of speeds up to 550MB/s sequential reads and 520MB/s sequential writes, and up to 100,000 IOPS 4K random reads and 90,000 IOPS 4K random writes.

What's most impressive about the Samsung 850 PRO however, is its warranty. Samsung covers the 850 PRO for up to 10 years with an endurance of up to 150 TBW (TeraBytes Written) so if you do pick up the 850 PRO, you'll practically be covered for the rest of the drive's life. Be sure to check out our full Samsung 850 Pro review here for more details.
Best Mainstream SATA SSD
Samsung 850 EVO
Launched at the same time as the Samsung 850 PRO, the Samsung 850 EVO is undoubtedly the best pick for any mainstream user. Featuring both Samsung's 32-layer TLC 3D VNAND or 48-layer TLC 3D V-NAND depending on capacity, the Samsung 850 EVO is offered in capacities of 120GB all the way up to a whopping 4TB.

Performance on the Samsung 850 EVO is very good as well, coming in rated at 540 MB/s sequential reads and 520 MB/s sequential writes.

Although not as impressive as its bigger brother the Samsung 850 Pro, the Samsung 850 EVO still features an industry leading warranty at 5 years with an endurance rating of up to 300TBW (TeraBytes Written). Be sure to check out our full Samsung 850 EVO review here for more details.
Best Budget SATA SSD
Crucial MX300
For those on a budget or simply don't need all of the additional performance features that entail with the SSDs above, the Crucial MX300 is the best choice.

Available in capacities of 275GB, 525GB, 1TB and 2TB, the Crucial MX300 features parent company Micron's new 3D NAND technology. As such, performance on the Crucial MX300 is rated at up to 530 MB/s sequential reads and 510 MB/s sequential reads.

Warranty on the Crucial MX300 is rated at 3 years or up to 220TBW (TeraBytes Written) depending on the drive capacity. Be sure to check out our full Crucial MX300 review here for more details.
Final Thoughts
Question about why we chose X and not Y? Ask us in our community forums! All you have to do is visit our forums, register, and post in the appropriate section! If you'd like more immediate help, feel free to swing by our community Discord channel.
Also don't forget to join us on Facebook, Twitter, Google Plus, or YouTube to be updated on the latest news, reviews, tutorials, custom computer builds, and more!
Last updated: June 2017