With the launch of NVIDIA's GeForce GTX 1070 just hours away, MSI has unveiled their complete lineup of upcoming graphics cards based on the new GPU.  The new lineup is made up of four new cards in all, including the all-new MSI GeForce GTX 1070 Gaming X and the liquid-cooled MSI GeForce GTX 1070 Sea Hawk X, the latter of which continues MSI's partnership with Corsair.
MSI GeForce GTX 1070 Gaming X 8G
First off we have the GTX 1070 Gaming X 8G, which features MSI's brand new Twin Frozr VI cooling solution featuring MSI's TORX Fan 2.0 technology. The new technology claimed to generate 22% more air pressure for "better cooling performance while further reducing noise levels." The fans are also equipped with Double Ball Bearings, which MSI claims will ensure "lasting, smooth and silent operation."  Connected to the large heatsink are 8 mm copper heat-pipes with a squared shape at the bottom, this said to allow for optimal heat transfer from the solid nickel-plated copper baseplate.
The card also includes RGB LEDs, and measures 279 x 140 x 42 mm.
MSI GeForce GTX 1070 Armor 8G OC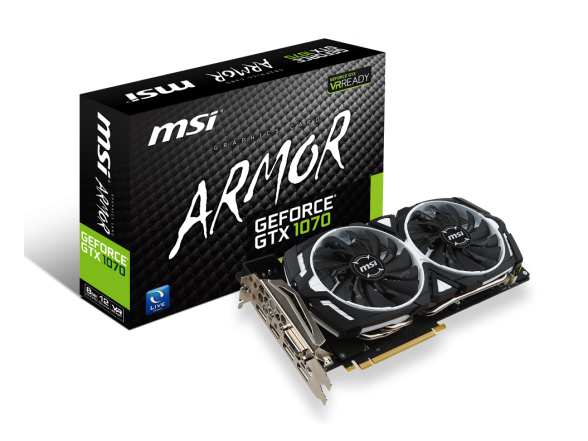 Next up, we have the GTX 1070 Armor 8G OC Which is the latest in MSI's specialty black and white Armor cards. This one is equipped with MSI's older but still highly capable Twin Frozr V cooling system which features MSI's Torx fan technology. The card measures 279 x 140 x 37 mm.
MSI GeForce GTX 1070 Sea Hawk X
For those looking for a liquid-cooled option, MSI has you covered here as well. Their new Sea Hawk X continues their partnership with Corsair and includes a 120 mm Corsair Hydro H55 series liquid cooler. The card also sports a black and silver shroud design with a small blower fan for cooling the VRM. The card measures 270 x 111 x 40 mm. The cooler measures 151 x 120 x 52 mm.
MSI GeForce GTX 1070 Aero 8G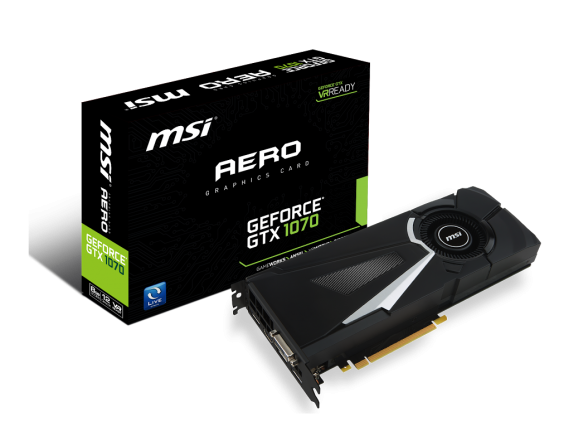 For those looking for a rear exhaust option, MSI has the all-new Aero 8G. This card features the same black and silver shroud found on the Sea Hawk, only without Corsair liquid cooler. This one will no doubt serve as a cheaper solution as well, more than likely hitting the $379 MSRP of the GTX 1070. We're also told that the card will come in overclocked and reference configurations. The card measures 269 x 111 x 35 mm.
Detailed specifications such as GPU and Memory clock speeds are currently not available. However, we're sure we'll hear more soon.