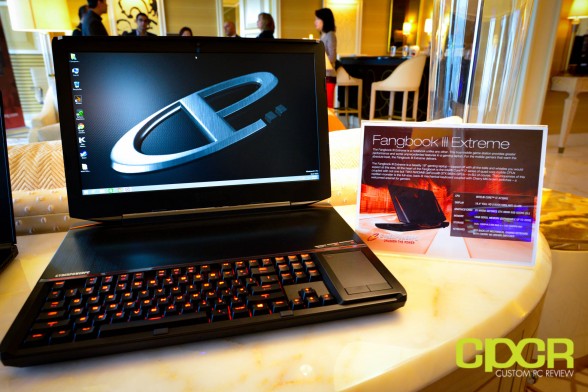 CyberPowerPC unveiled two very unique gaming laptops at their suite for CES 2015.
The CyberPowerPC FangBook 3 Extreme is CyberPowerPC's newest 18.4″ flagship gaming laptop. Its most unique feature is a backlit, Cherry MX-Brown mechanical keyboard built directly into the chassis and support for dual GPU SLI configurations. If this laptop seems similar to the MSI GT80 Titan, it's because CyberPowerPC sources their laptop from MSI and lets buyers customize them to their needs.
The CyberPowerPC FangBook 3 Extreme on display was configured with an Intel Core i7-4720HQ, 2x Nvidia GeForce GTX 980m in SLI, 16GB of RAM, dual M.2 SSDs in RAID-0, and a 1TB HDD.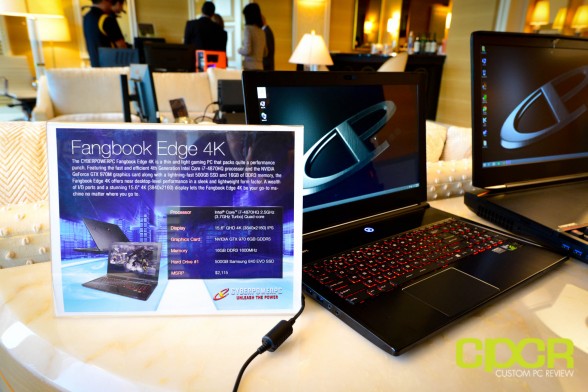 With the immense horsepower available to modern mobile GPUs, gaming at 4K is now feasible on notebooks. The CyberPowerPC FangBook Edge brings 4K resolution to a 15.6″ light-weight gaming laptop. The display model shown here was outfitted with a Nvidia GTX 970m, an Intel Core i7-4870HQ, 16GB of RAM and a 500GB Samsung 850 Evo SSD.
The FangBook Edge will start at $2,115 and should be available in Q1 2015. CyberPowerPC has yet to announce the price or availability of the FangBook 3 Extreme.