Best Gaming PC Builds of 2017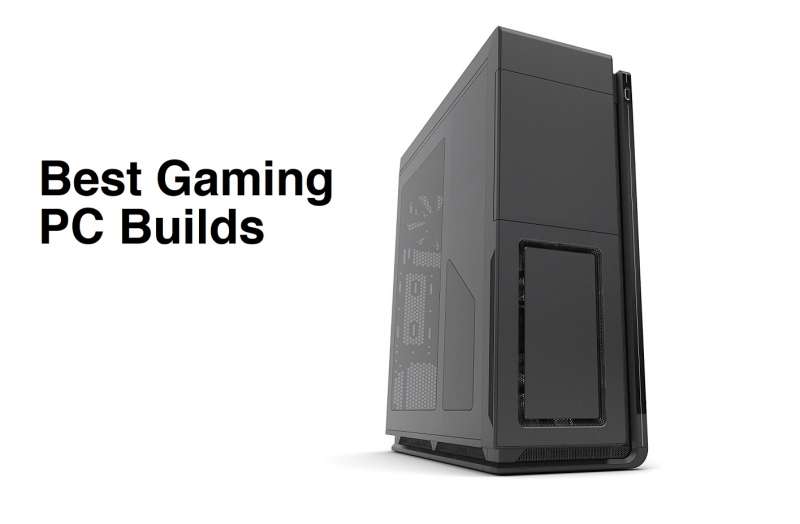 Welcome to Custom PC Review's Best Gaming PC Builds! If you're looking to build a new computer to play all the latest games, look no further because this is it!
Below you'll find a list of what we think are the best components for the most powerful gaming PC builds sorted by budget. Each piece of hardware in each build is hand-picked by our staff through consideration of a multitude of criteria such as price, performance, reliability, and cost. Furthermore, hardware recommend for our builds all have either been reviewed by us or is well known and highly regarded by the hardware community to ensure that our recommendations will give you the best gaming PC out there for the price. We've also designed our builds to be extremely balanced as well, favoring not only in-game FPS (frames per second) but ultimately not sacrificing cooling performance or aesthetics.
As usual, this article is meant to serve as a guide for reference purposes only. Hardware prices and availability is constantly fluctuating, so if any piece of hardware listed below is out of stock, or is priced improperly, please help by letting us know in our community forums.
Best Cheap Entry Level Gaming PC Build (Budget $500 – $800)
The purpose of our entry level gaming PC is simple – we want to give casual gamers a relatively cheap, budget computer build that would allow them to play older, less graphically demanding games at medium to high settings as well as newer games at lower detail/resolution settings.
Best Mid-Range Gaming PC Build (Budget $800 – $1,500)
The concept of the mid range gaming PC is pretty much going to be a machine that gives gamers the best "bang for the buck". Each piece of hardware here is maximized in price to performance, but we also try to build the machine so that the price range is where performance is considered "good enough". With this gaming PC, most games will be running at medium to high settings if played with a 1080P or 1440P monitor. This build will also provide entry to mid-level performance for VR games.
Best High End Gaming PC Build (Budget $1,500 – $2,000)
The high end gaming PC is going to be something that can run everything at 1080P or 1440P at high to ultra settings. This machine will burn through any game on the market, and will have plenty of room for expansion as well. Those interested in playing VR games or games at 4K resolutions will find that this build will be more than powerful enough do the job although performance in might not be quite as good as our extreme gaming PC build.
Best Extreme Gaming PC Build (Budget $2,000+)
Finally, we've also got the extreme gaming PC. This is the coveted gaming PC that will run most games on the market today at 4K with all the highest graphics settings enabled. Additionally, this kind of system is optimized for VR (Virtual Reality) and multi-display setups as well for that ultra level of immersion.
Gaming PC Hardware State of the Union
July 2017 Updates
CPU/Motherboard
The biggest new development in recent months is the release of Intel's new HEDT platform codename Skylake-X and Kaby Lake-X. These new processors are based on Intel's new X299 chipset and at the very high end scale up to a whopping 18-cores/36-threads in the Intel Core i9-7980XE CPU although this isn't expected to actually be available on retail shelves at least for another few months.
On the AMD side, AMD's Ryzen has received numerous updates, with a majority of the updates targeted towards gamers, content creators, and the enthusiast community. As a result, we've been very impressed with the direction AMD Ryzen is headed and have included options for AMD Ryzen builds alongside Intel builds as well. At this point, we have no reservations about purchasing an AMD Ryzen build as many of the major initial bugs have been eradicated at this point. Of course, if you purchase an AMD Ryzen build, be on the lookout for updates as it seems like AMD is very regularly releasing driver and CPU microcode updates.
Down the road, budget gamers should watch out for AMD's Ryzen 3 processors which should roll out shortly. These are expected to be priced very aggressively compared to Intel's Core i3 yet offer significantly better performance. Additionally, in the next month or so, AMD is expected to release their Ryzen Threadripper CPUs which scale up to 16-cores and 32-threads. These are expected to come in at a very aggressive pricepoint compared to Intel's HEDT Skylake-X and Kaby Lake-X. We'll keep an eye out on availability and the initial reviews and update the build guide accordingly.
GPU
On the GPU side, not much new has changed. High end Nvidia Pascal architecture based graphics cards (GeForce GTX Titan Xp, GTX 1080 Ti, GTX 1080, GTX 1070) still reign supreme in terms of top tier performance, and both Nvidia GeForce (GTX 1060, GTX 1050 Ti, GTX 1050) and AMD Radeon (RX 580, RX 570, RX 560) remains competitive in the mid-range. but little of that matters since cryptocurrency miners have made GPU availability extremely scarce, especially AMD Radeon graphics cards which provide the best GPU mining capability for the price. If you can find a GPU at its MSRP and you need one, I'd highly recommending purchasing immediately as GPU makers are having a very difficult time keeping up with demand.
During SIGGRAPH 2017, AMD is expected to launch their AMD Radeon RX Vega graphics card which is the first high end graphics card they've released for a very long time. According to the latest leaked information, the RX Vega is expected to have performance on-par with the Nvidia GeForce GTX 1080.
Other Components
There's still a major DRAM and NAND shortage which is inflating prices of RAM and NAND. Whereas previously this was expected to end in Q2 of this year, the supply shortage has been extended until next year due to demand for the components by mobile devices. If you're looking to buy a new RAM kit or a new SSD and there's a good deal, we'd recommend purchasing it before supply shrinks even more for the holidays.
As for other hardware, there's little new development at this time.
20170724
*Added AMD Ryzen builds
*Added Intel X299 CPU/Motherboards
*Updated out of stock hardware
Question about why we chose X and not Y? Ask our community! We'd be happy to make recommendations on alternatives, provide you tips on putting the entire system together, or even suggest you a 100% custom build better fit for your needs. All you have to do is visit our forums, register, and post in the appropriate section!
Also don't forget to join us on Facebook, Twitter, Google Plus, or YouTube to be updated on the latest news, reviews, tutorials, custom computer builds, and more!