LSI Syncro Architecture @ LSI AIS 2012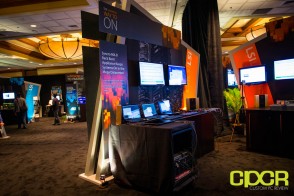 Among other products from a multitude of vendors, one of the major highlights at LSI's AIS 2012 conference is the introduction of the LSI's own Syncro architecture, which alongside LSI's Nytro and MegaRAID products will make up LSI's three major storage brands. Whereas products from the Nytro line focused on performance, Syncro's main concern is to lower the cost of high availability. As such, the Syncro architecture is targeted at the entire range between the large datacenter market as well as the small business.
In order to achieve this goal, LSI is introducing two new products – Syncro CS and Syncro MX. While both serve different target markets, they both fit the goal of giving businesses easier and/or more cost effective access to high availability.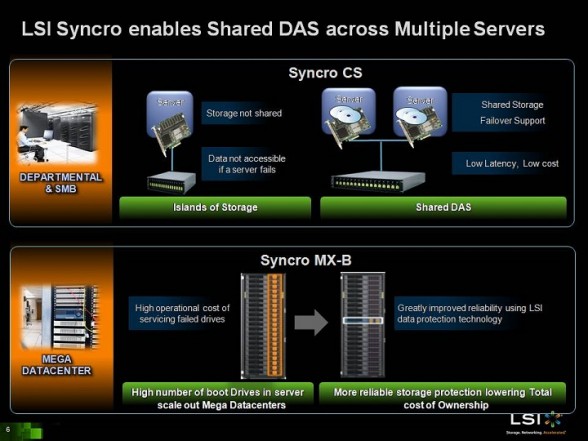 Syncro CS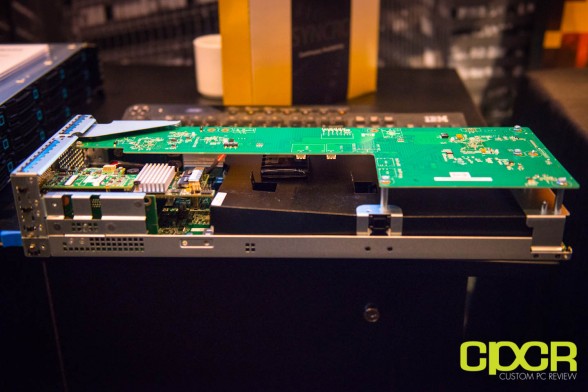 One of the new products on display here is Syncro CS, which is simply HA-DAS (High Availability Direct Attached Storage) except with a new and improved name. In terms of hardware, the Syncro CS kit will include two LSI RoC's (with special Syncro firmware, of course), each being able to connect to their own DAS. This setup will allow for shared storage as well as seamless failover in the event of disk failure, server maintenance, etc. What's very interesting about Syncro CS is the fact that it's simply a drop in product that runs off MegaRAID software, so it'll be very easy to deploy and very easy to use as well, especially those who are familiar with LSI RoC products.
I'm told that the product is ready at this time, but LSI is finalizing the product and it should be available in Q1 2013 with a retail price of around $5000 for the kit. This product is aimed at smaller businesses who need a high availability solution, but may not necessarily have the budget nor the expertise to deploy a high availability server cluster.
Syncro MX
The second new product LSI is extremely excited about is Syncro MX, which is an entire boot device aimed at the mega datacenter. Because of the high availability nature of these datacenters as well as the need to save on cost, these datacenters generally use the lowest cost 2.5″ notebook hard drive for each of these servers. The problem with this is that cheap hard drives tend to fail and while this isn't a huge problem when you only have one or two servers, when you're looking at a datacenter with 100,000 servers, you're looking at around 100 failed drives per week! (2.5″ notebook hard drive, ~3 year lifespan, ~15% failure rate)
Traditionally, the mega datacenter utilizes racks and racks of servers with approximately 70% servers being storage poor nodes (web servers, database servers, etc.), which generally require fewer than 40GB of storage and are only utilized from time to time for small log files and other maintenance operations. With the new Syncro MX boot device, LSI is basically consolidating the boot drives for 24-48 of these servers into a single mirrored array, which will give each server a nice 40GB chunk of virtual disk space. By consolidating all these drives into a single larger mirrored drive, we can essentially get lowered cost and better redundancy, which according to LSI will save mega datacenters 40%-60% of their storage costs.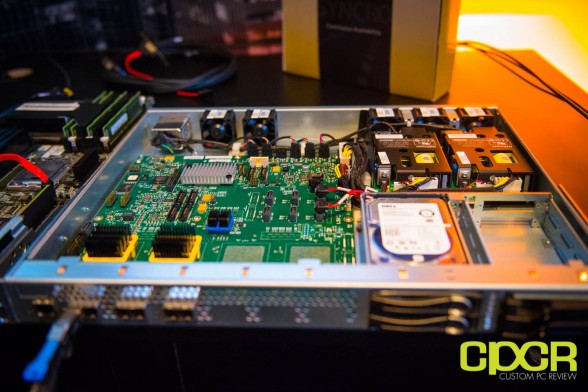 On display was a Syncro MX boot device paired with a couple 1TB hard drives in a mirrored configuration.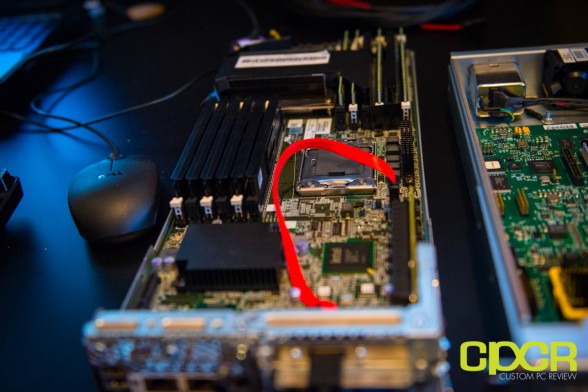 Connectivity is provided via eSATA breakout cables, which then interface with an adapter which is then directly interfaced with each server's onboard SATA ports.
The Syncro MX boot device is expected to be available at the end of the month will pricing based on a per customer basis.
For more information, be sure to check out the full press release after the jump!