Sapphire HD 7750 1GB Low Profile Review
Navigation:
Sapphire HD 7750 Low Profile Overclocking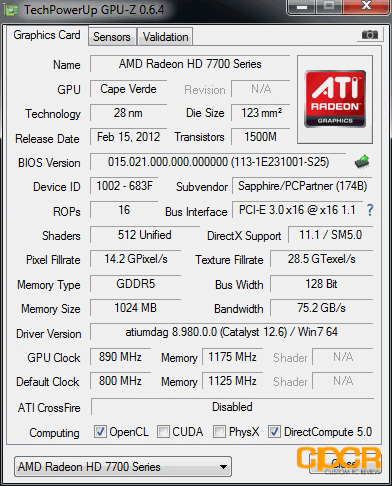 Overclocking performance was near identical to what we saw on the HIS 7750 iCooler. The Sapphire HD 7750 Low Profile was able to hit 890MHz core and 1175MHz memory, which is quite a significant overclock. Unfortunately, the card is locked for voltage, so there isn't a whole lot of room for overclocking. That said, those looking to purchase this card probably isn't looking to break overclocking records with it.
3D Mark 11 Performance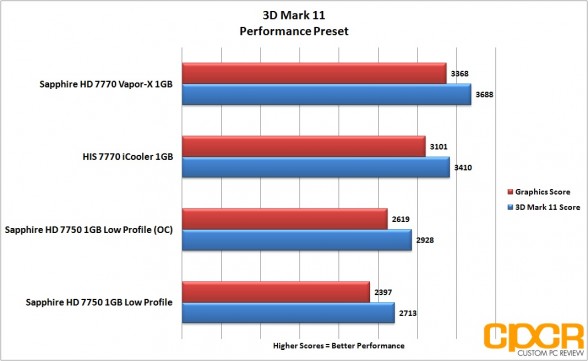 Performance wise, we're looking at around an 8% increase, which isn't too bad. This could mean a significant difference in some games that are borderline playable.
Power Consumption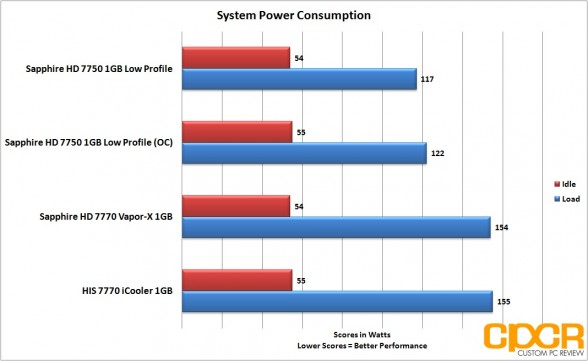 Since there isn't much opportunity to increase the voltage or external PCIe power, there isn't much difference in power consumption. Our overclock only drew an additional 5w under load. Not bad.
Temperatures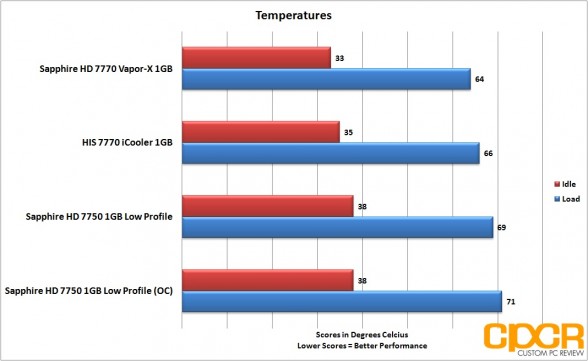 As expected, temperatures rose a bit after the overclocking pushing the Sapphire HD 7750 Low Profile slightly above 71ºC. 71ºC is fine. It's not the end of the world. That said, the fan spun faster and got significantly louder as well. It seems like the fan is set to keep the graphics card under 70ºC.