SanDisk Extreme 240GB SSD Review
Navigation:
SanDisk Extreme Performance
AS SSD Benchmark
AS SSD is a very commonly used benchmark used to measure SSD performance in a number of categories. Here, tests are run using incompressible data, which most simulate real world usage. It also outputs a final score at the conclusion of the test based off the read and write performance of the drive.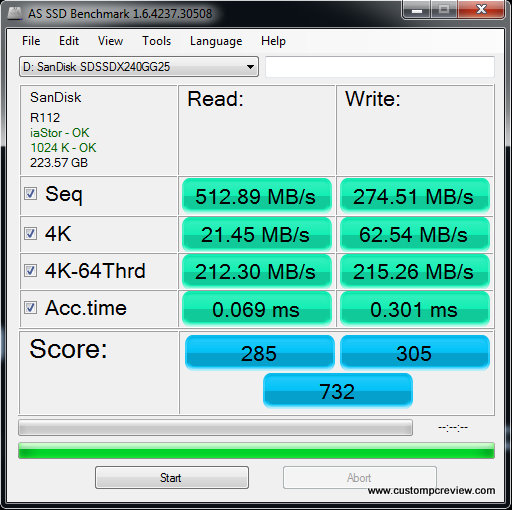 The SanDisk Extreme 240GB continues to dominate its competitors in the AS SSD benchmark, which also uses incompressible data. Additionally, it scored high in the 4k and 4k 64 speed tests, not to mention the low access times. Any OS running on this drive will definitely feel very zippy.
PC Mark 7
The PC Mark 7 storage test tests the SSD under many different real world tests such as gaming, video editing, etc. This is most representative of the SSD's performance under real world situations.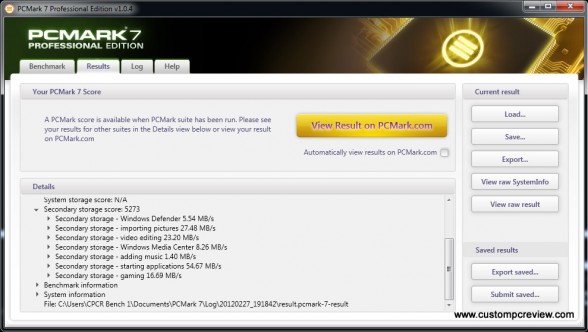 | SSD | PC Mark 7 |
| --- | --- |
| SanDisk Extreme 240GB | 5273 |
| Crucial m4 128GB | 5214 |
| Patriot Pyro SE 120GB | 5042 |
| Kingston V+200 120GB | 4711 |
| OCZ Agility 3 120GB | 4701 |
| Corsair Force 3 180GB | 4615 |
| Seagate Momentus XT 750GB | 3247 |
| WD Scorpio Black 250GB | 1727 |
The 5273 points the SanDisk Extreme scored in PCMark 7 takes the number one position in our current SSD list. The close second is the Crucial M4, which uses synchronous NAND.