SanDisk Extreme 240GB SSD Review
Navigation:
Sandy Bridge Test Bench
CPU: Intel Core i5 2500K
Motherboard: Asrock Z68 Fatal1ty Professional Gen 3
Graphics: Intel HD3000 Graphics
Memory: Gskill Sniper 1866MHz DDR3 1.5v
Storage: Patriot Pyro SE 120gb
Power Supply: Corsair HX650
Case: HSPC High Speed Tech Station
Special thanks to HSPC for providing us with the High Speed Tech Station (Large) for our test bench!
SanDisk Extreme Performance
ATTO Disk Benchmark
ATTO Disk Benchmark is one of the industry's most popular benchmarks for testing SSD read/write speeds. This benchmarks allows read and write testing using predefined block sizes and gives us a good idea of read/write speeds with different sized files.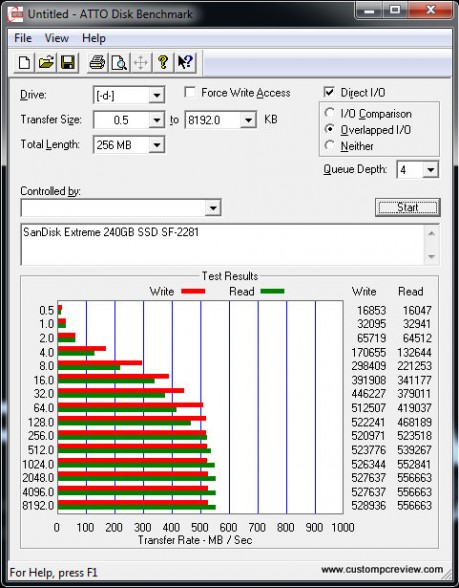 With ATTO Disk Benchmark we can see that even at a queue depth of 4, the drive is already able to push out 528MB/s writes and 556MB/s reads, which meets and slightly beats the advertised performance.
Crystal Disk Mark 3.0.1 x64
Crystal Disk Mark is another popular benchmark which allows us to measure both sequential read/write speeds as well as random read/write speeds. With this benchmark, tests will be run using both random fill (incompressible data which simulates music, video, pictures, etc.) and 0 fill (compressible data).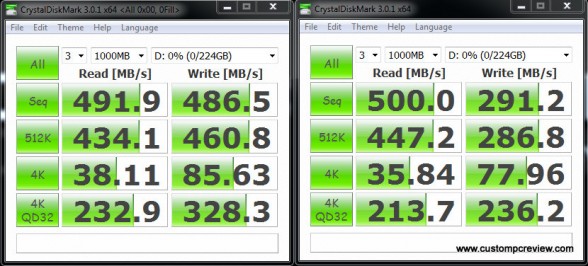 Like any other SandForce based SSD, the SanDisk Extreme 240GB performed very well in the test with compressible data. Although a bit slower than the advertised speed of 550MB/s read and 520MB/s write, it's just about where we'd expect for this type of drive.
What set this drive apart from the others is its performance in the random fill benchmark, which simulates incompressible data. Thanks to the toggle NAND flash memory, this drive was able to output a ridiculous 500MB/s sequential read and 291MB/s sequential write, blowing away all other drives we've tested so far.