Samsung 840 Pro Series 256GB SSD Review
Navigation:
Samsung 840 Pro Series 256GB Performance
Crystal Disk Mark 3.0.1 x64
Crystal Disk Mark is another popular benchmark which allows us to measure both sequential read/write speeds as well as random read/write speeds. With this benchmark, tests can be run using both random fill (incompressible data) and 0 fill (compressible data). Realistically in typical computer usage scenarios, data being transferred will consist of a mixture of both incompressible and compressible data.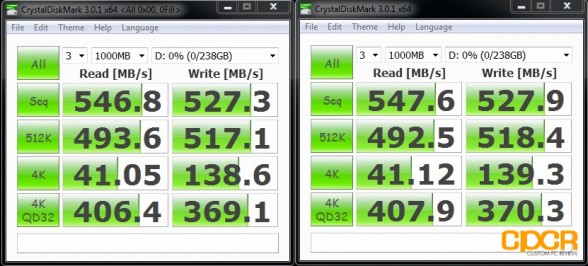 With Crystal Disk Mark, we can see that it Samsung has designed the 840 Pro to perform well in all scenarios no matter if the data is highly compressible or highly incompressible. Sequential reads and writes top out in the 500MB/s+ range, which is a slight bump in sequential reads and around a 100MB/s performance bump in sequential writes when compared to the Samsung 830. However, what's important to notice is that with the Samsung 840 Pro, read/write performance in smaller 4K and 512K file sizes have received a considerable bump. Since most OS and application data transferred consists of small files under 512K, this will translate into a system that feels faster and more responsive.
AS SSD Benchmark
AS SSD is a very commonly used benchmark used to measure SSD performance in a number of categories. Here, tests are run using incompressible data, which most simulate real world usage. It also outputs a final score at the conclusion of the test based off the read and write performance of the drive.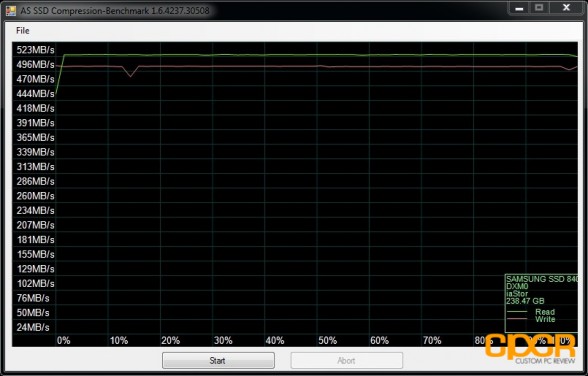 Whereas AS SSD tells us pretty much the same thing we've already seen in Crystal Disk Mark, it does have a very useful compression benchmark that shows us what the range of performance looks like over different levels of compression. What we see with the Samsung 840 Pro is pretty much what I'd consider the ideal result as performance will be very consistent no matter if the data is incompressible or not. Whereas with SandForce based drives, performance will drop by a couple hundred MB/s, this is not an issue with the Samsung 840 Pro.
Additionally, while this isn't the best measure of performance, the Samsung 840 Pro is currently the highest scoring SATA based drive I've tested so far in AS SSD with a total score of 1,232.