Samsung 840 Pro Series 256GB SSD Review
Navigation:
Ivy Bridge Test Bench
Special thanks to Gigabyte, Kingston, and HSPC for sponsoring our test bench!
Samsung 840 Pro Series 256GB Performance
ATTO Disk Benchmark v2.46
ATTO Disk Benchmark is one of the industry's oldest and most popular benchmarks for testing disk read/write speeds. This benchmarks allows read and write testing using predefined block sizes and gives us a good idea of read/write speeds with different sized files. Most SSD manufacturers these days prefer using this benchmark when advertising SSDs as it tests using compressible data, which tends to yield better performance.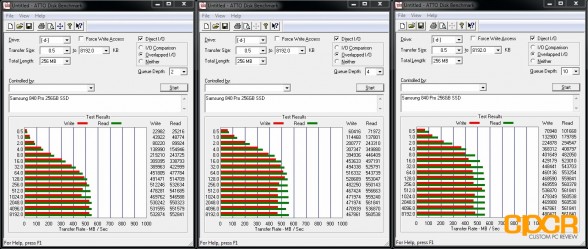 Kicking off with ATTO Disk Benchmark, my initial thoughts about the Samsung 840 Pro simply based off the specifications were immediately proven wrong. In fact, it's quite apparent that the Samsung 840 Pro is going to be one very fast SSD. Sequential reads max out at about 560MB/s while sequential reads max out at around 537 MB/s depending on the queue depth. At smaller depths, the Samsung 840 Pro's performance is among the fastest I've ever seen with sequential writes topping out at 533 MB/s and sequential reads topping out at 553 MB/s. At higher queue depths, the SSD's write performance does dip slightly, but read performance is maintained. That said, the advertised speed for the 840 Pro is 540 MB/s sequential reads and 450 MB/s sequential writes so Samsung is definitely advertising fairly conservatively here.
One thing to note is that this type of performance is typically seen only on SandForce based SSDs which excel when working with highly compressible data. The only other SSD on the market without a SandForce controller which can perform at such a level in ATTO Disk Benchmark is the OCZ Vertex 4, which is capable of similar 500MB/s+ sequential read/writes.