Samsung 840 250GB SSD Review
Navigation:
Samsung 840 250GB Power Consumption
Since a great majority of SSD nowadays are used in mobile applications, we'll be conducting power consumption testing on all future SSD reviews. For our power consumption testing, we'll generally run three tests which consists of idle power consumption, constant 4K read/write power consumption, and constant sequential read/write power consumption. Please note that these power consumption measurements are constant read/write measurements, NOT peak measurements.
All tests below are measured by tapping into the 5v line running from the power supply to the drive. All testing here is conducted with "HIPM/DIPM" enabled and "AHCI Link Power Management – Adaptive" set to 0 milliseconds for maximum power efficiency.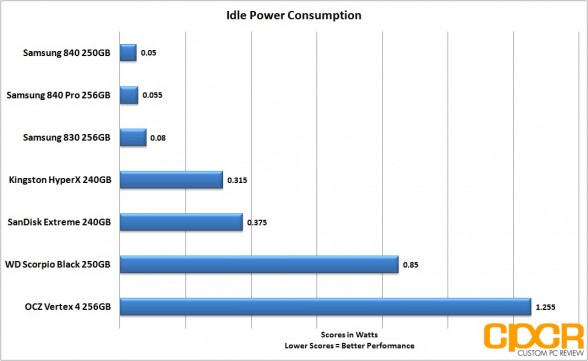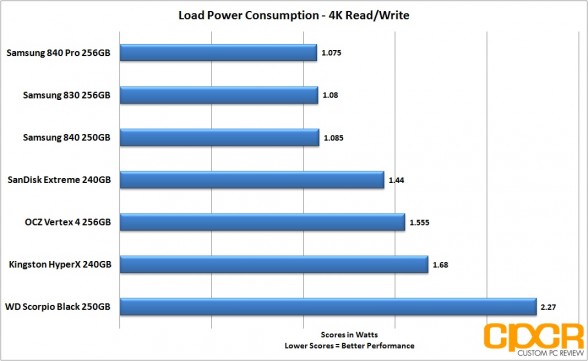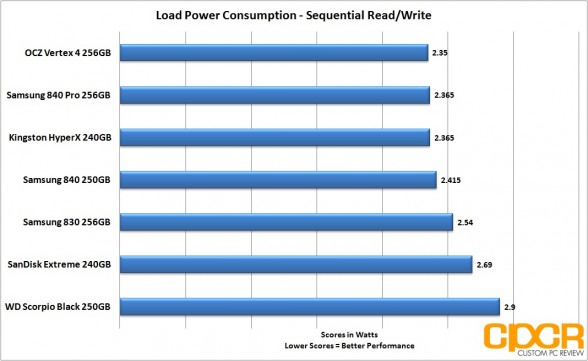 Samsung's 840 and 840 Pro drives are among the most power efficient drives we've seen to date, which will make them excellent additions for notebook/laptop users. Samsung rates the 840 at 0.046W idle (DIPM On) and 0.071W typical usage. From my testing, I was able to get both the 840 and 840 Pro down to around 0.05W and 0.055W respectively, which is within the margin of error of Samsung's rating. Lookin' good!