Samsung 840 250GB SSD Review
Navigation:
Samsung 840 250GB Performance
Crystal Disk Mark 3.0.1 x64
Crystal Disk Mark is another popular benchmark which allows us to measure both sequential read/write speeds as well as random read/write speeds. With this benchmark, tests can be run using both random fill (incompressible data) and 0 fill (compressible data). Realistically in typical computer usage scenarios, data being transferred will consist of a mixture of both incompressible and compressible data.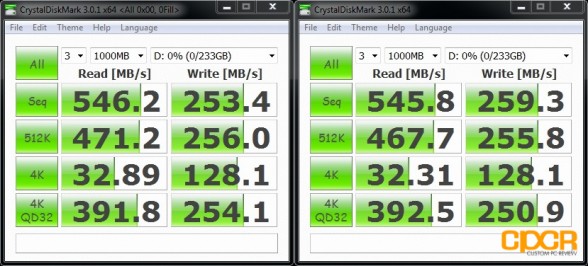 What the Samsung 840 lacks in sequential writes, it makes up for big time in the random writes department cranking out a solid 128.1 MB/s with both incompressible and compressible data sets. This is very important to note as typical PC usage focuses a lot more heavily on random reads and writes rather than sequential reads/writes. That said, sequential and random reads are also top notch with this drive as it's capable of around 32 MB/s random reads and a SATA 3 interface topping 546 MB/s sequential writes.
AS SSD Benchmark
AS SSD is a very commonly used benchmark used to measure SSD performance in a number of categories. Here, tests are run using incompressible data, which most simulate real world usage. It also outputs a final score at the conclusion of the test based off the read and write performance of the drive.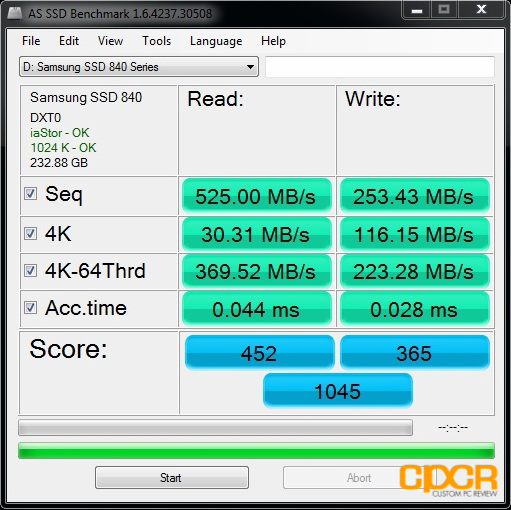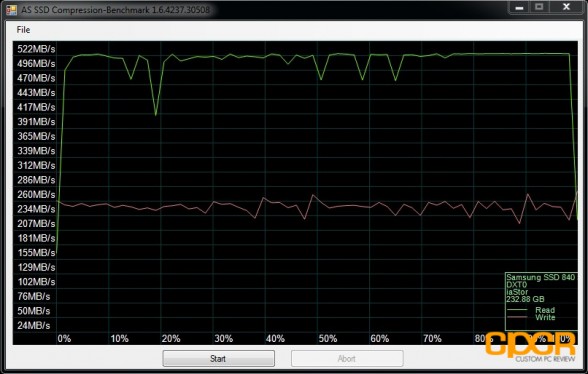 AS SSD mirrors the results found in Crystal Disk Benchmark quite well.
Moving onto the compression benchmark then, we can see that generally speaking, the Samsung 840 is capable of performing very consistently throughout the entire range of compression from 0-100%. However, it should be noted that there's a significant amount of fluctuation in the compression benchmark with the Samsung 840 when compared with the Samsung 840 Pro.