Samsung 830 Revisited: 256GB SSD Review
Navigation:
Samsung 830 256GB Performance
Crystal Disk Mark 3.0.1 x64
Crystal Disk Mark is another popular benchmark which allows us to measure both sequential read/write speeds as well as random read/write speeds. With this benchmark, tests can be run using both random fill (incompressible data) and 0 fill (compressible data). Realistically in typical computer usage scenarios, data being transferred will consist of a mixture of both incompressible and compressible data.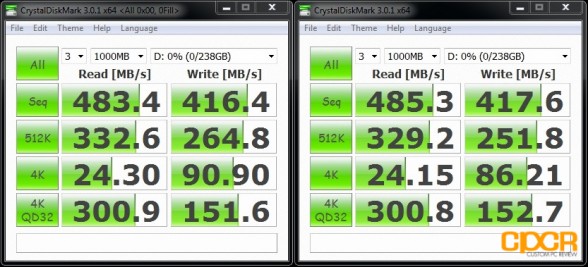 Unlike SandForce based SSDs, the Samsung 830 performs the same no matter if the data being read/written is compressible or incompressible. This is impressive because typically SandForce based drives will see incompressible writes dip to around the low 300MB/s range.
AS SSD Benchmark
AS SSD is a very commonly used benchmark used to measure SSD performance in a number of categories. Here, tests are run using incompressible data, which most simulate real world usage. It also outputs a final score at the conclusion of the test based off the read and write performance of the drive.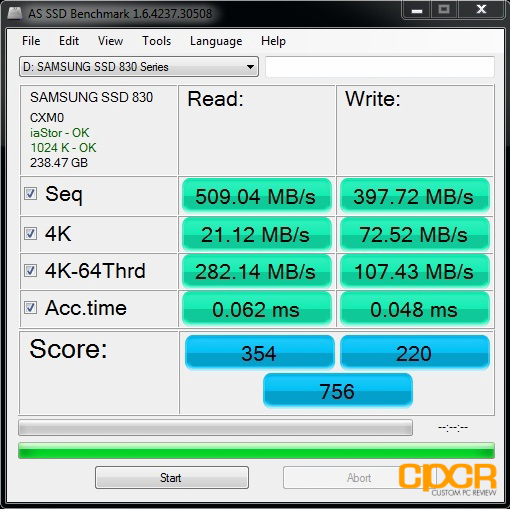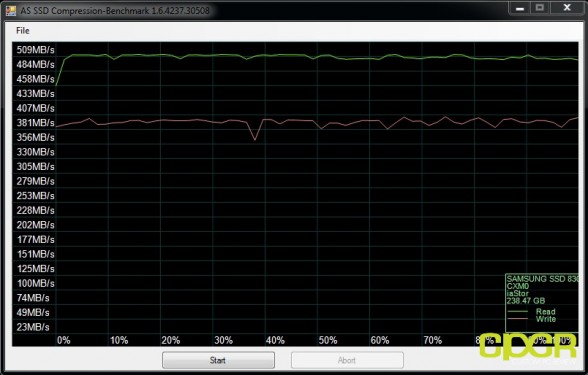 As expected from the results we've already seen in Crystal Disk Mark, the compression benchmark here features a very straight line. This means that performance will be identical across all levels of file compression be it compressible or incompressible.