ROCCAT Kone [+] Gaming Mouse Review
Posted October 3, 2012 by Tom Li in
Reviews
Navigation:
ROCCAT Kone [+] Performance

The Kone [+] is a very different experience compared to mice such as the Razer Deathadder and feels a lot like the Logitech G500 with its adjustable weights system. The adjustable weight allowed me to find the perfect weight for the strength of arm for better control. In Starcraft 2, this evident as mouse navigation felt that much more controlled, which increased the pointer accuracy when moving from unit to unit. The sensor performed as expected of a high grade gaming peripheral – fast and stable. The buttons were very responsive and did not produce any "mushiness", but I did notice that the scroll wheel felt a tad bit flimsy for my liking.
In intense first person shooters such as Battlefield 3, fine grained control is a necessity and I found the Kone [+] once again excelled here thanks to its great level of control. That said, I am a fan of heavier mice, so the Kone [+] again with its weights system made me quite happy in this regard. The mouse was able to glide smoothly across my mouse pad despite the smaller mouse feet and all button presses were extremely responsive. Although the "Pro-Aim Laser Sensor R2″ (Avago ADNS-9500) was excellent in terms of lift distance accuracy and response time, it produced some jitter at the higher DPI settings (3500-6000 DPI). In order to confirm that it wasn't me imagining things, I tried drawing a couple of straight lines in paint and sure enough, there was noticeable jitter. Otherwise, surface tests seemed good as the Kone [+] did not glitch up even as I ran it across a white sheet of paper and my hardwood floor.
After reviewing so many gaming peripherals, I felt like that my reviews are incomplete without something that heavily relied on macros, but it seems like manufacturers these days don't really produce all that many mice with gobs and gobs of macro functionality. The Kone [+], with its EasyShift technology really changes that. With 8 programmable buttons, we get a up to 24 possible macros on the mouse, so I felt like the best way to test this was with a MMO, and what game is better than Guild Wars 2 these days to put the macro functionality to the test. (Right? Right?) With the bundled ROCCAT software I was easily able to bind all my skills to the mouse buttons and still ended up having a couple more to spare. While all macros worked fine, I did find that some macro combinations a little awkward to execute (such as the EasyShift key + the DPI decrease button).
Also to test for any acceleration issues, I loaded up Team Fortress 2, which is one of the rare games out there these days that doesn't have acceleration built into the game itself. In the case of Kone [+] with the raw mouse input on, I detected a slight amount of positive acceleration, which isn't much of a shocker since it's an Avago ADNS-9500 after all. That said, I was surprised that it wasn't a huge problem as previous experiences with the ADNS-9500 typically yielded a lot of unwanted negative acceleration.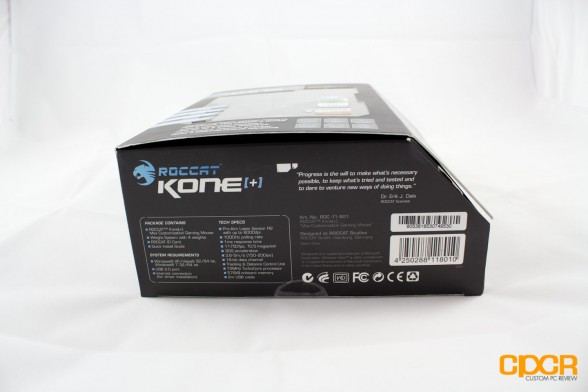 Macro keys are not just for gaming as general everyday use can also benefit greatly. I programmed 8 programs to launch with the macros on the Kone [+] and they all worked very well. The DPI adjustment button helped me greatly in Adobe Lightroom, where I needed lower DPI settings for fine controlling the sliders and with its ability to store multiple banks/profiles to on the on board 576KB memory, I was able to quickly switch between gaming and my everyday use profiles without a hitch.
In terms of comfort, the elevated rear of the Kone [+] pressed snugly against my palm and felt very comfortable. The indents on the sides of the mouse provided excellent resting areas for my thumb and pinky finger. My hand did not feel sore even after a 6 hour long gaming marathon. Although there are plenty of other palm grip mice out there that are equally as comfortable in terms of hand and finger support, the Kone [+] managed to stand out thanks to its weight adjustment system. Being able to adjust the weight of the mouse to match the power of my wrist greatly increased control and reduced muscle fatigue. The grip of the chassis was also exceptional and kept its traction even as my hand perspired.