ROCCAT Kone [+] Gaming Mouse Review
Posted October 3, 2012 by Tom Li in
Reviews
Navigation:
ROCCAT Kone [+] Software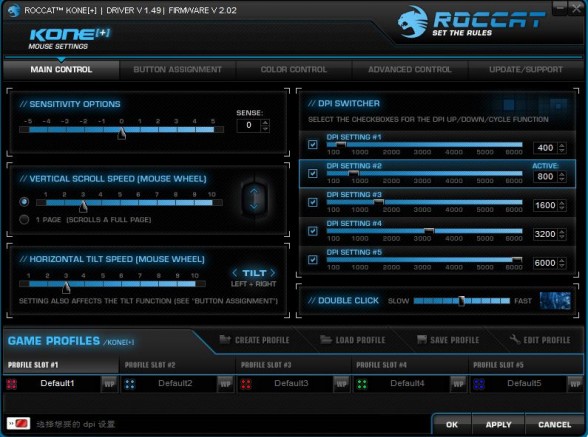 The driver software for the Kone [+] is definitely one of the best, most extensive software packages I've ever seen. The main control tab here allows you to change the sensitivity of the mouse and program each of the 5 profiles.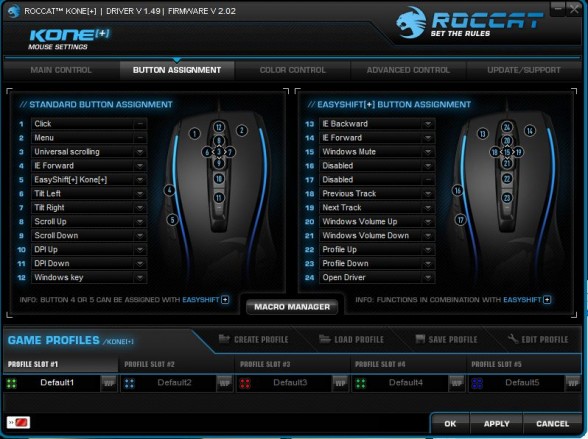 The Kone [+] has up to 24 macros through button combinations via the EasyShift key.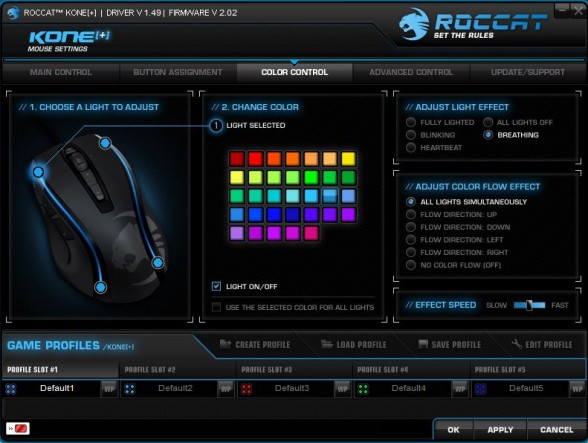 The color control tab lets you adjust the lighting effect for the two LED strips on either side of the mouse. I found the effect options for the Kone [+] interesting to play with.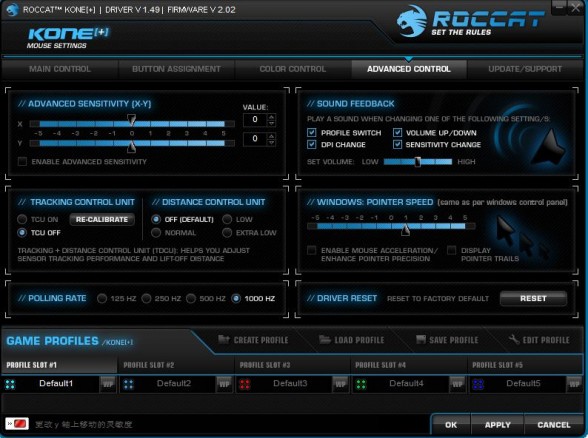 In the advanced control section we have the settings for X/Y sensitivity, sound feedback, polling rate, and Windows pointer speed. We also get the "Tracking Control Unit", which calibrates the sensor based on the type of surface the Kone [+] is used on.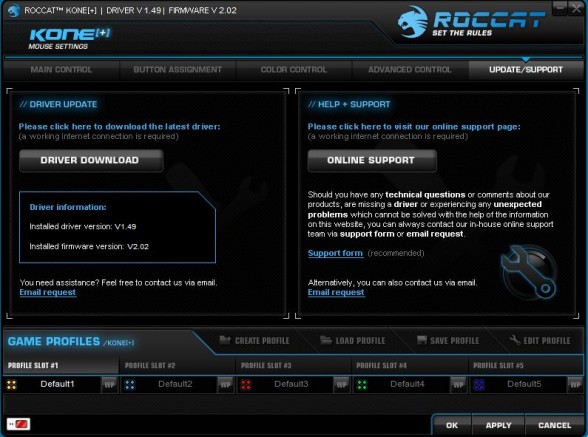 The update/support section offers well, update and support. ROCCAT made accessing the driver and support page very easy to access by linking them with gigantic buttons.
Now, before we move on to performance testing, I'd also like to mention that the ROCCAT Kone[+] is also compatible with ROCCAT Talk, which is one of the innovative features that come with the combining both a ROCCAT Talk compatible mouse such as the Kone [+] with a ROCCAT Talk compatible keyboard. Since this is a joint feature between both a mouse and a keyboard, I'll be discussing ROCCAT Talk a bit more in my review of the ROCCAT Talk compatible ROCCAT Isku gaming keyboard which will be coming shortly. I'll be sure to post a link to the article when it's published, so stay tuned…