ROCCAT Kone [+] Gaming Mouse Review
Posted October 3, 2012 by Tom Li in
Reviews
Navigation:
Max Customization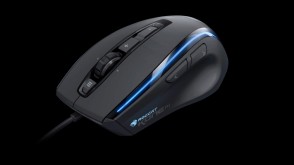 When it comes to gaming peripherals, ROCCAT isn't a name that's often heard of especially in the USA, but with their recent expansion into the US market earlier this year, this European gaming peripherals brand has been gaining quite a bit of traction among gamers.
In order to find out what all the fuss was about, today we'll be reviewing one of ROCCAT's flagship gaming mice, the ROCCAT Kone [+]. With customizable lighting options, a fully programmable macro system, an adjustable weight system, 6000 DPI sensor, as well as innovative features such as ROCCAT Talk, the Kone [+] certainly has the features to compete with other premium grade gaming mice on the market.
Are all these features enough to make the Kone [+] a compelling buy against peripherals from giants such as Razer, SteelSeries, and Logitech? Read on to find out!
Specifications
Pro-Aim Laser Sensor R2 with up to 6000 DPI
Up to1000Hz polling rate
1ms response time
30G acceleration
3.8-5m/s (150-200ips)
16-bit data channel
72MHz TurboCore processor
576kB onboard memory
2m USB cable