ROCCAT Isku Gaming Keyboard Review
Posted October 17, 2012 by Tom Li in
Reviews
Navigation:
ROCCAT Isku Conclusions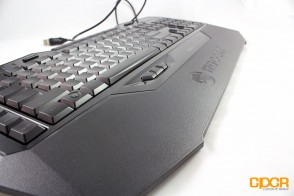 This is my first experience with a ROCCAT keyboard (as the Kone[+] was my first experience with a ROCCAT mouse), and I must say it's a good start. The immense feature set of the ROCCAT Isku in combination with the number of programmable macros on this keyboard makes this thing quite impressive. With seemingly unlimited amount of macros, this board can be customized for nearly any use. The strategically placed EasyShift key and EasyZone made macros very accessible and natural to use. The keyboard illumination kept the keyboard brightly lit, which helped me tremendously as I watched movies in a dark environment, but since the  media navigation keys lack backlights, I found myself struggling to find the right keys when I wanted to adjust the volume.
The build quality on the Isku is top notch and most of the components that went into this keyboard screams  quality; however, be aware of the bezel around the keys. It's comprised of a glossy plastic and feels less durable than the rest of the chassis and it also tends to attract a lot of fingerprints. The keycaps have a decent grip on them and are coated with a nice layer of paint. The wire is not braided, but instead sheathed in a thick coat of rubber. Personally, I don't think this is an issue as keyboard cables are meant to be stationary, but if you have a lot of gamer rage, you may want to look for something else.
Performance was surprisingly good with the ROCCAT Isku. Not only did it excel at gaming, it's a great plank to have for cubicle warriors too. No ghosting issues were detected in neither Starcraft 2 or Battlefield 3, which confirmed the advanced anti-ghosting feature printed on the box. The keys responded well to my strokes, being decently tactile and not mushy. They were also extremely quiet given the amount of pressure I usually apply when I type and the rapidity of my tapping. Despite my furious typing, the keyboard did not slide off the table thanks to its rubberized feet and it's hefty weight. The large wrist rest also scores top points for being one of the most comfortable I've ever used.
The driver that came with the Isku is very mature and it shows that ROCCAT spent a lot of time developing it with users in mind. All the settings were categorized under the appropriate tabs, which in combination with a simple, easy to use interface, it makes changing settings and programming macros a piece of cake. Although fascinating, I found the ROCCAT Talk function to be not as practical as I expected. At the moment, ROCCAT Talk enabled devices are few and far between as well, so I wouldn't make a purchasing decision through the ROCCAT Talk feature alone. That said, I can't speak for everyone, so you might end up finding ROCCAT Talk super useful. Who knows.
That said, I still think that a membrane keyboard is still no match for a mechanical keyboard in terms of tactile feedback and responsiveness. Coming from a 6GV2 myself, I missed the feeling of my Cherry MX Black switches while gaming, and felt like I had to press deeper for the keys to register. The glossy bezel around the keys attracted a ton of dust and fingerprints during my weeks of use. Although this can be solved by a simple wipe everyday, this can be eliminated if ROCCAT just crafted the entire thing out of something not glossy.  Also, despite the Isku's gleaming set of features, you won't find any audio or USB pass through ports.  This is possibly the only downer about the Isku. Considering this is one of ROCCAT's flagship products, I'd definitely like to see something as simple as passthroughs be included.
Currently, the ROCCAT Isku will set you back $87.99, which is a very steep price for a keyboard, especially one that doesn't use the more expensive and more durable mechanical key switches. Considering other keyboards on the market such as the Razer BlackWidow ($69.99) and the CM Storm QuickFire Pro ($86.99) come with mechanical switches and at a lower pricepoint, it's going to be a bit difficult to justify a near $90 pricetag for a gaming keyboard with a couple extra macros and membrane switches.
That said, I will concede that not everyone out there is looking to go with a mechanical keyboard and as a membrane keyboard, you'll definitely be hard-pressed to find anything better. However, with membrane based options such as the Microsoft Sidewinder X4 at $49.99, the Logitech G110 at $55.38, Cyborg V.5 at $47.67 and Razer Lycosa at $66.49, you cant help but think that the Isku is about $30 more than it needs to be.
Bottom Line
The ROCCAT Isku is one of the best non-mechanical gaming keyboards you can currently find on the market. With tactile keys, excellent construction quality, and an astonishing macro count, this plank is perfect for gamers who demand copious programmable keys. Just be prepared to shell out nearly $90 for this thing.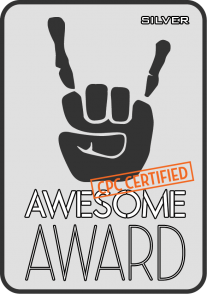 Special thanks to ROCCAT for making this review possible!
The ROCCAT Isku is currently available on Amazon.