Razer DeathAdder 2013 (4G) Gaming Mouse Review
Navigation:
Razer DeathAdder 2013 Performance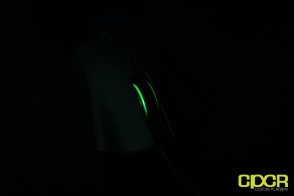 Starting off with some real world testing, I played Tomb Raider, League of Legends, and CS:GO to test the feel, tracking, accuracy, and acceleration from the mouse. Like most Razer gaming mice, the Omron switches in the left and right clicks are very deliberate and tactile which feel very good when pressed. While I haven't had any experience with the Kailh side button switches before, they're decent as well. They're slightly heavier in terms of actuation force than the Omron and the TTC switches, but has good tactile and auditory feedback. The shape of the mouse is unchanged from older models of the DeathAdder and is still the palm grip masterpiece it always was. The addition of the grips on the left and right sides of the mouse also helps give the DeathAdder 2013 a lot more of a controlled feel than older models which is a welcome touch.
Tracking and accuracy in my opinion was very good and I didn't detect any sort of strange issues such as Z axis skipping during my testing. A quick search of DeathAdder 2013 issues revealed that some people are having problems with some sort of spinning issue, but over the course of my testing, I couldn't replicate the problem. (Firmware 1.3) As for acceleration, I found no perceptible acceleration issues to speak of while testing in CS:GO with raw mouse input enabled. This has generally been the case with the DeathAdder series of gaming mice as the optical sensors used in them do not inherently have any built in acceleration.
Prediction/Jitter Testing
Here's some testing for prediction and jitter. There's no prediction and jitter even at up to 6400 DPI.