OCZ Vertex 4 Revisited: 256GB SSD Review
Navigation:
Performance
Crystal Disk Mark 3.0.1 x64
Crystal Disk Mark is another popular benchmark which allows us to measure both sequential read/write speeds as well as random read/write speeds. With this benchmark, tests can be run using both random fill (incompressible data) and 0 fill (compressible data). Realistically in typical computer usage scenarios, data being transferred will consist of a mixture of both incompressible and compressible data.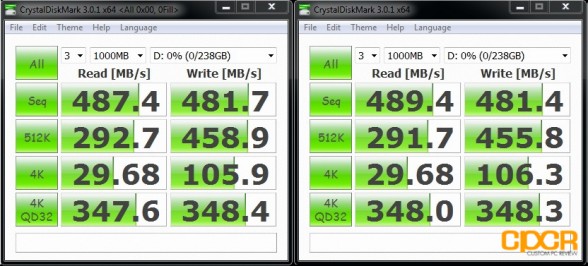 In Crystal Disk Mark, we're again looking at some phenomenal performance as the Vertex 4 is capable of maintaining its speed in both incompressible and compressible data tests. While 4k reads aren't that great, the 4k write performance on this drive is the fastest we've seen on any SATA based SSD yet.
AS SSD Benchmark
AS SSD is a very commonly used benchmark used to measure SSD performance in a number of categories. Here, tests are run using incompressible data, which most simulate real world usage. It also outputs a final score at the conclusion of the test based off the read and write performance of the drive.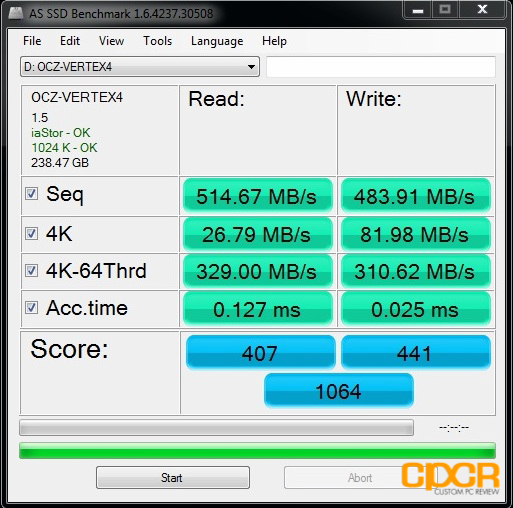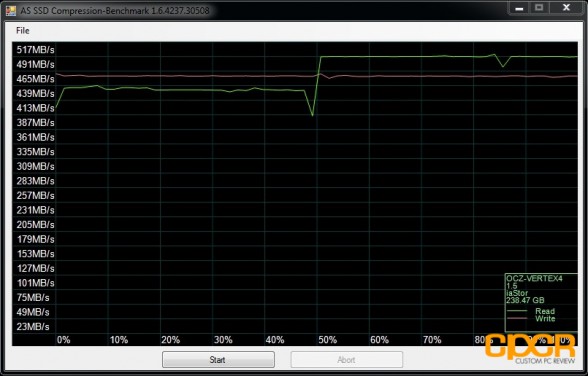 Whereas the AS SSD benchmark is pretty much going to be a repeat of Crystal Disk Mark, the nice thing about AS SSD is that it includes a compression benchmark that gives us a look at how read and write performance changes as data become more compressible. What we're seeing here is that sequential reads are extremely consistent across both compressible and incompressible data while sequential writes seem to get a huge boost in performance as soon as compression hits about 50%.