OCZ Vertex 4 256GB, Kingston HyperX 240GB RAID 0 Review
Navigation:
Performance
Anvil Storage Utilities
Anvil Storage Utilities is an excellent all around benchmark for testing many different functions of SSD performance. For our purposes, we ran the benchmark through both 0 fill mode (compressible data) on the left and 100% compression (incompressible data) on the right.
2x OCZ Vertex 4
With Anvil Storage Utilities, we're seeing larger queue depths and sequential file transfers being much faster with the two Vertex 4′s in RAID 0 than with a single drive by itself. There's also significant decrease in latencies as well since having multiple drives is very similar to having multiple channels for data to pass through. Additionally, there's also a huge point score increase in this benchmark as well from around the 4,500 range to the 6,400 range.
2x Kingston HyperX 240GB
Like what we just saw with our pair of OCZ Vertex 4′s, our pair of Kingston HyperX 240GB drives are seeing significant performance improvements in higher queue depths, performance improvements in sequential read/write transfers, and latency decreases as well. Again, total point numbers are significantly higher with two drives in comparison to a single drive as well.
PC Mark 7
The PC Mark 7 storage test tests the SSD under many different real world tests such as gaming, video editing, etc. This is most representative of the SSD's performance under real world situations and therefore is the only benchmark used for comparison between different SSDs.
2x OCZ Vertex 4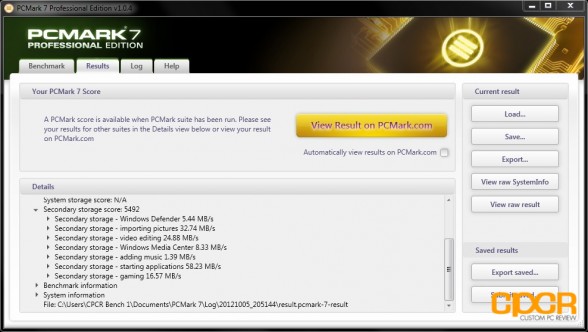 2x Kingston HyperX 240GB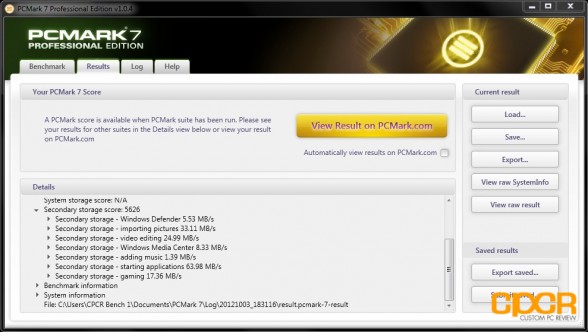 PC Mark 7 Secondary Storage Performance Chart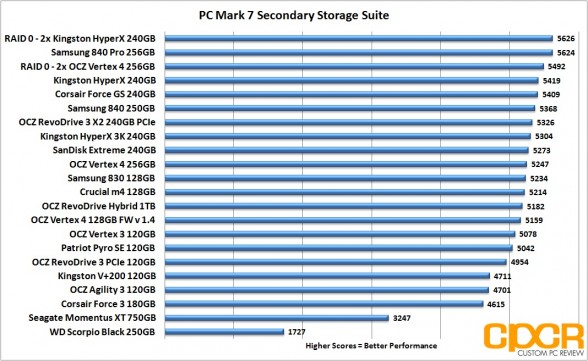 Looking at our PC Mark 7 chart here, the pair of Vertex 4 256GB SSDs in RAID 0 were able to gain a 245 point increase while the pair of Kingston HyperX 240GB SSDs in RAID 0 were able to gain a 207 point increase. This is a significant performance increase to both SSDs, and this now puts the pair of Kingston HyperX 240GB SSDs at the top of our PC Mark 7 chart, beating out the recently released Samsung 840 Pro 256GB SSD.