OCZ Vertex 4 256GB, Kingston HyperX 240GB RAID 0 Review
Navigation:
Performance
Crystal Disk Mark 3.0.1 x64
Crystal Disk Mark is another popular benchmark which allows us to measure both sequential read/write speeds as well as random read/write speeds. With this benchmark, tests can be run using both random fill (incompressible data) and 0 fill (compressible data). Realistically in typical computer usage scenarios, data being transferred will consist of a mixture of both incompressible and compressible data.
2x OCZ Vertex 4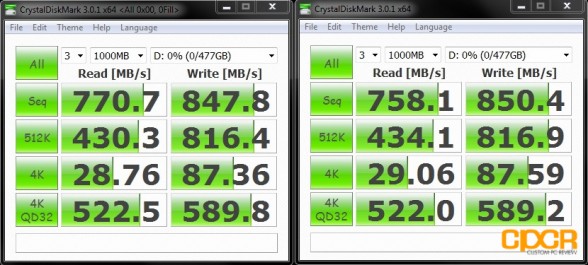 In comparison to a single Vertex 4 256GB in Crystal Disk Mark, we can see again significant improvement on sequential read/write speeds, 512K write speeds, but strangely a slight decrease in 4K write performance.
2x Kingston HyperX 240GB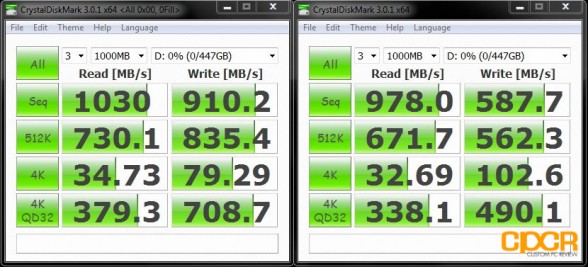 Shifting the focus to our pair of Kingston HyperX 240GB drives, the  pair once again scaled very well, outputting nearly double the performance in every metric when compared to the single Kingston HyperX 240GB. That said, it's important to be aware that for the most part, the 4K read performance once again slightly dropped when moving from a single drive to a pair of drives in RAID 0.
AS SSD Benchmark
AS SSD is a very commonly used benchmark used to measure SSD performance in a number of categories. Here, tests are run using incompressible data, which most simulate real world usage. It also outputs a final score at the conclusion of the test based off the read and write performance of the drive.
2x OCZ Vertex 4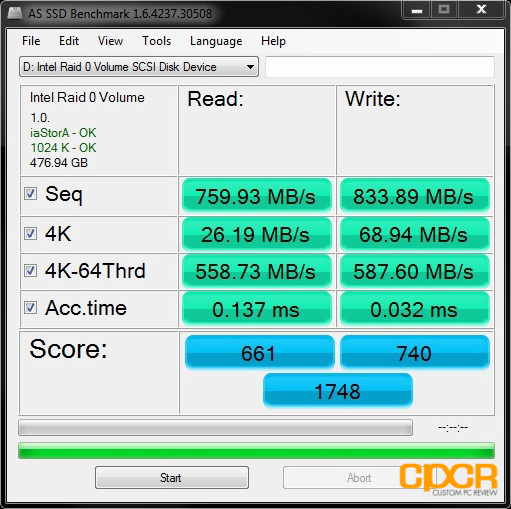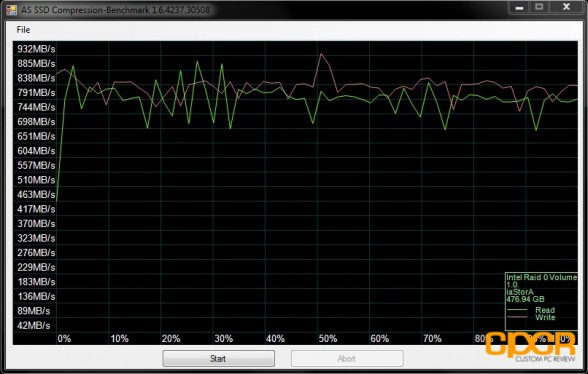 In our AS SSD compression benchmark, we can see that in comparison to a single Vertex 4 256GB, the performance curve for two drives in RAID 0 is much more unstable. That said, we still see the general straight line pattern suggesting performance will be fairly consistent no matter the compression on the data being read/written.
2x Kingston HyperX 240GB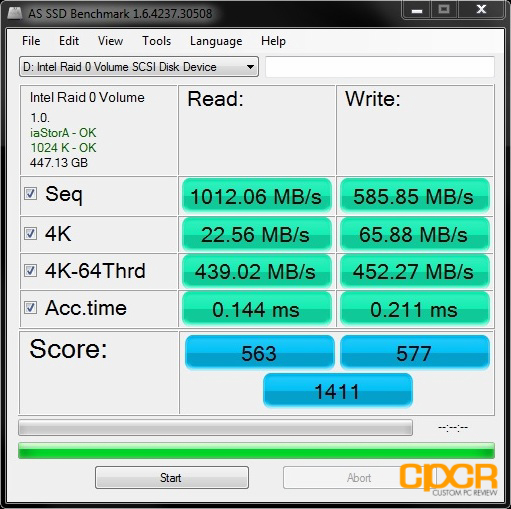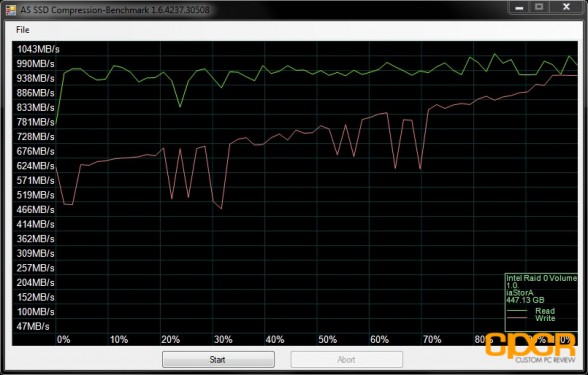 As expected from a pair of SandForce based drives, reads here are quite consistent over the entire range of compression while performance tends to suffer when data is very imcompressible.