OCZ Vertex 4 256GB, Kingston HyperX 240GB RAID 0 Review
Navigation:
Ivy Bridge Test Bench
Special thanks to Gigabyte, Kingston, and HSPC for sponsoring our test bench!
Performance
ATTO Disk Benchmark v2.46
ATTO Disk Benchmark is one of the industry's oldest and most popular benchmarks for testing disk read/write speeds. This benchmarks allows read and write testing using predefined block sizes and gives us a good idea of read/write speeds with different sized files. Most SSD manufacturers these days prefer using this benchmark when advertising SSDs as it tests using compressible data, which tends to yield better performance.
2x OCZ Vertex 4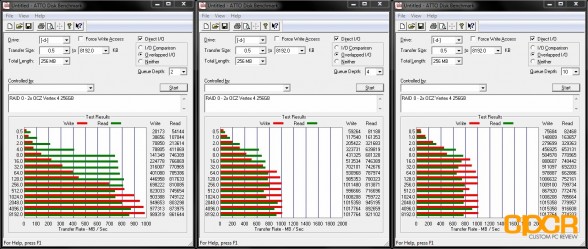 Starting off with our pair of Vertex 4 256GB SSDs, we can see  that pairing two drives in RAID 0 yields some pretty significant boosts in performance with sequential reads now topping out at around 960 MB/s and sequential writes peaking at 1.17 GB/s!
In comparison to a single Vertex 4 256GB, both sequential read and write performance has seen a huge increase, but for some reason it seems like sequential reads aren't scaling all that well as a single Vertex 4 256GB is capable of around 562 MB/s, which when doubled should be closer to 1.12 GB/s rather than the 960 MB/s we're seeing right now.
2x Kingston HyperX 240GB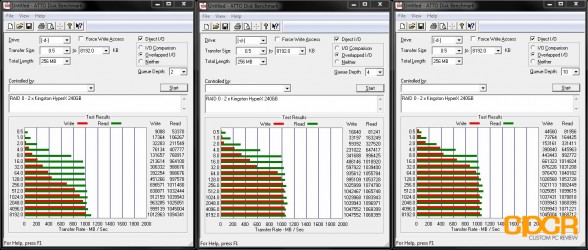 Looking at the ATTO Disk Benchmark scores for Kingston HyperX 240GB RAID 0 performance, we can see that the SSDs scaled very well here with the two drives in RAID 0 configuration pushing over a whopping 1GB/s in sequential read/writes in all queue depths tested today.