OCZ RevoDrive 3 X2 240GB PCIe SSD Review
Navigation:
Quadruple the SandForce, Quadruple the Fun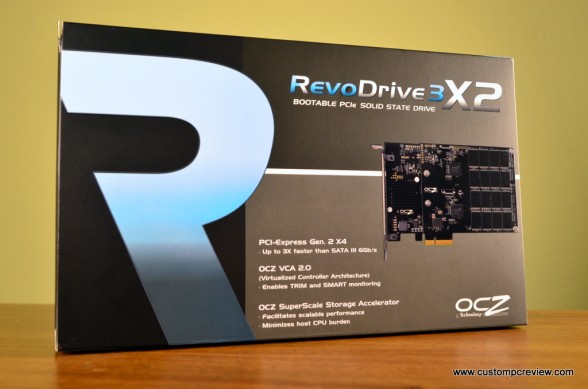 It was only a couple weeks ago since I was given the opportunity to put the OCZ RevoDrive 3 120GB PCIe SSD through its paces and for those who checked out the review, you'll know that it was the fastest drive I've tested to date. With up to 1+ GB/s transfer speeds, it was practically double the speed of everything else I've used thus far.
Of course, with myself being not only a PC enthusiast, but also a product reviewer I can never truly be impressed. Seeing 1GB/s is nice, but I wanna go faster – you can say it's in my blood. That's why today we'll be reviewing the OCZ RevoDrive 3 X2 240GB PCIe SSD. While the underlying technologies between the RevoDrive 3 and the RevoDrive 3 X2 are identical, the RevoDrive 3 X2 has a couple additions, which will allow it to reach an advertised read speed of up to 1.5 GB/s. Yes people, your eyes have not deceived you. That is in fact 500MB/s FASTER than the RevoDrive 3. Impressed? I certainly am.
The technologies powering the RevoDrive 3 X2 (VCA 2.0, OCZ Superscale Storage Accelerator, etc.) are identical to the RevoDrive 3, so those interested should take a look at the RevoDrive 3 review first. Since the technology behind both drives are the same, you might be wondering why the RevoDrive 3 X2 is able to put up such high numbers. Well, what's different is that the RevoDrive 3 X2 actually has 4x SandForce SF-2281 controllers powering the drive instead of the RevoDrive's *measly* 2. What does this mean? Well, if doubling the amount of SF-2281 controllers onboard and balancing the NAND between the two controllers helped the RevoDrive 3 reach 1GB/s, then by doubling that should in theory provide a much  provide even more of a performance benefit as well.
Specifications
Available in 240GB, 480GB and 960GB capacities
PCI-Express Gen. 2 x4 interface
MLC NAND flash
Full height form factor
OCZ SuperScale Storage Controller
Bootable as a direct-attach device
128-bit & 256-bit AES-compliant data encryption
SMART monitoring
167.64 (L) x 98.42 (W) x 15.25mm (H)
Weight: 114g
Operating Temp: 0°C ~ 70°C
Ambient Temp: 0°C ~ 55°C
Storage Temp: -45°C ~ 85°C
Power Consumption: 7.5W idle, 8.3W active
MTBF: 1,000,000 hours
Current OS Supported: Windows 7 32/64
240GB Max Performance
Read: Up to 1500 MB/s
Write: Up to 1225 MB/s
Max Random Write 4KB (Aligned): 200,000 IOPS