OCZ Agility 4 256GB SSD Review
Navigation:
OCZ Agility 4 256GB Performance
Anvil Storage Utilities
Anvil Storage Utilities is an excellent all around benchmark for testing many different functions of SSD performance. For our purposes, we ran the benchmark through both 0 fill mode (compressible data) on the left and 100% compression (incompressible data) on the right.
As expected, Anvil Storage Utilities doesn't yield the best performance out there with the drive only scoring around 3,786 points. Like the Vertex 4, it's quite apparent that the controller heavily favors write performance over read performance, which is strange given the fact that client workloads are much more heavy in reads than writes. I think if OCZ optimized the Agility 4 to favor reads over writes, it would be much more beneficial than what's seen here.
PC Mark 7
The PC Mark 7 storage test tests the SSD under many different real world tests such as gaming, video editing, etc. This is most representative of the SSD's performance under real world situations and therefore is the only benchmark used for comparison between different SSDs.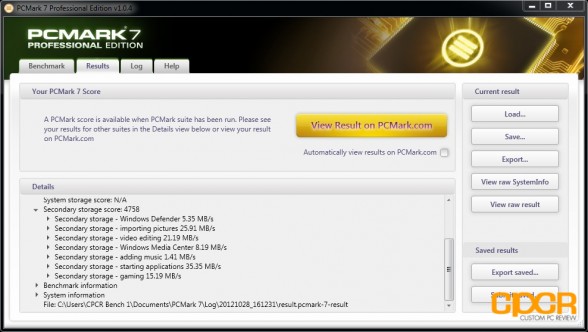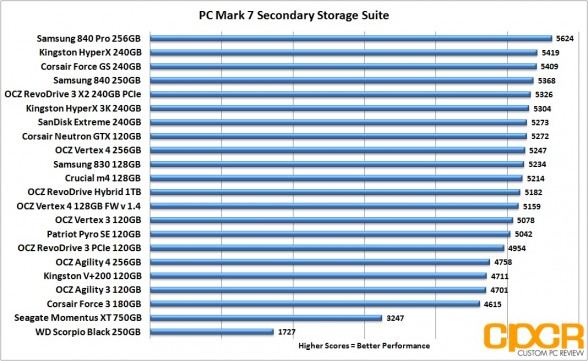 With PC Mark 7, the Agility 4 really isn't all that impressive, dishing out a measly 4758 points. It's currently the lowest scoring 240GB / 256GB class SSD we've tested to date, and it doesn't score much higher than the 120GB class Agility 3. The combination of low, low queue depth performance in addition to low read performance definitely doesn't help the Agility 4 at all.