OCZ Agility 4 256GB SSD Review
Navigation:
OCZ Agility 4 256GB Performance
Crystal Disk Mark 3.0.1 x64
Crystal Disk Mark is another popular benchmark which allows us to measure both sequential read/write speeds as well as random read/write speeds. With this benchmark, tests can be run using both random fill (incompressible data) and 0 fill (compressible data). Realistically in typical computer usage scenarios, data being transferred will consist of a mixture of both incompressible and compressible data.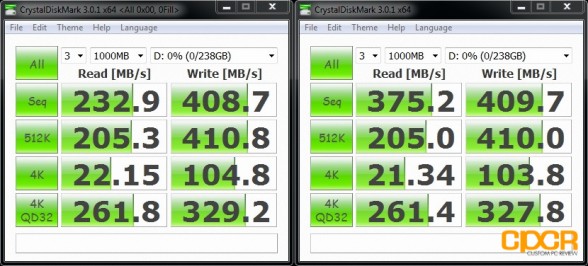 Huh… this is interesting. I'm very used to SSDs performing better when dealing with compressible data, but with the Agility 4, it seems like the SSD actually performs worse here (remember, Crystal Disk Mark doesn't deal with queuing) with sequential reads at over 100MB/s slower when dealing with compressible data. Very strange.
On the bright side, 4K figures across the board are still good, which is the most important when dealing with day to day use.
AS SSD Benchmark
AS SSD is a very commonly used benchmark used to measure SSD performance in a number of categories. Here, tests are run using incompressible data, which most simulate real world usage. It also outputs a final score at the conclusion of the test based off the read and write performance of the drive.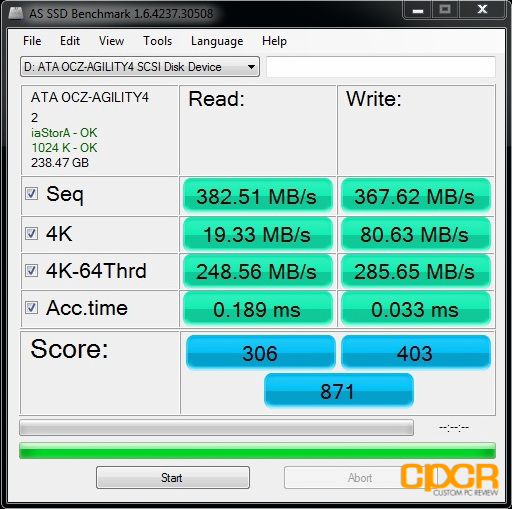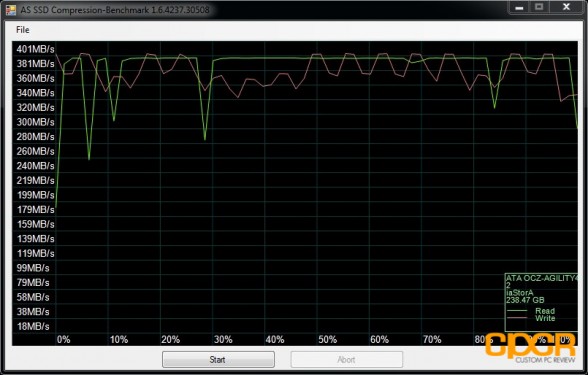 AS SSD results mirror Crystal Disk Mark quite well and in the compression benchmark, we see that the Indilinx Everest 2 controller has fairly stable performance no matter if the data is compressible or incompressible. Performance across compression levels in both read and write is a bit inconsistent in comparison to the Vertex 4, which is probably due to the asynchronous NAND bottleneck.