NZXT Havik 120 and Havik 140 CPU Cooler Review
Posted August 28, 2012 by Mike Lewis in
Reviews
Navigation: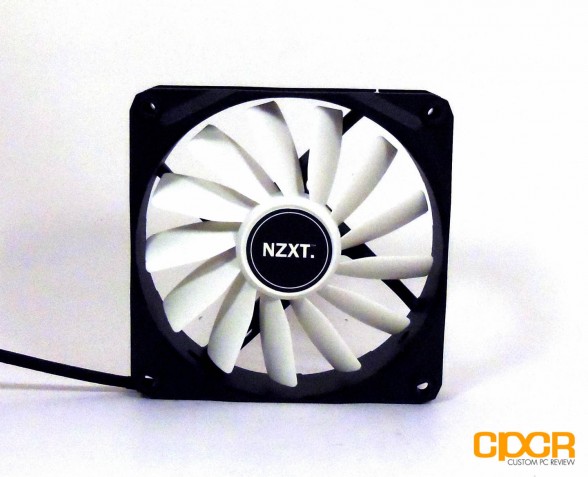 Both the Havik 120 and the Havik 140 exceeded my expectations. Out of the gate, I was expecting them to perform well, but not nearly as well as they did. Performance wise, the Havik 140 was able to top my charts, becoming the best CPU cooler I've tested to date, just slightly above the Spire TME III, which had the advantage of five 8mm heatpipes. The Havik 120 on the other hand, while it wasn't able to match the performance of the Spire TME III, was able to defeat the Cooler Master X6 Elite as well as the Cooler Master Hyper 212+, two very strong competitors.
Aesthetically, the Havik series of coolers happen to look quite nice. They have that clean look to them that would fit in nearly any situation. The black fan shrouds with white blades adds just a nice bit of touch and makes them pop. I do however wish there was perhaps something more to make them stand apart from each other. Sure there is the obvious difference in the fan size, but I'm sure they could have made a couple other subtle tweaks to make the Havik 140 look just a little more aggressive.
The installation process on the Havik series of coolers was pretty straightforward. Most coolers on the market have now transitioned into an installation procedure very similar to that of the Havik coolers. Simply bolting on your backplate, then screwing on your mounting arms and finally screwing the cooler down can be achieved in just a matter of minutes. The fan mounting however proved to be a bit more difficult. There weren't any clear directions on my manual so I had to try my best to figure out a way to put them on. Unfortunately, it did take a while to figure out; however, once they were finally installed and ready to go, they performed very well and were fairly quiet as well.
Price wise, I think the Havik 120 is priced a bit steep, coming in at $49.99 shipped from Amazon. Now, I'm not saying that the Havik 120 isn't worth that asking price, but the Havik 140 is available through Amazon for just $59.99 shipped. That $10 price difference really makes me question why anybody would go for a Havik 120 (other than space requirements) as as the Havik 140 outperforms the Havik 120 by a pretty wide margin.
Bottom Line:
The NZXT Havik 120 is a solid product with excellent build quality and overall performance on par with other coolers at the price point.
The NZXT Havik 140 proved to be the best air cooler that I've tested to date. It was able to out perform coolers that are more expensive, and it does so at a very low price point. Highly recommended!
| NZXT Havik 120 | NZXT Havik 140 |
| --- | --- |
|   |   |
Special thanks to NZXT for making this review possible.
The NZXT Havik 120 and the NZXT Havik 140 are both currently available on Amazon.