NZXT Havik 120 and Havik 140 CPU Cooler Review
Posted August 28, 2012 by Mike Lewis in
Reviews
Navigation:
Havik 140 and Havik 120 Testing Methodology
Sandy Bridge Test Setup
Special thanks to HSPC and OCZ Technology for sponsoring our test bench!
Methodology
For all of my tests I'm going to be using Real Temp to monitor all temperatures. Idle temperatures will be measured after the computer has sat idle for 15 to ensure everything has fully settled. Load temperatures will be tested with Prime 95 on the default blend settings, running for 30 minutes. Load temperatures will be calculated by averaging the temperatures from all four cores. All heatsinks are tested using ARCTIC MX-4 thermal compound to ensure consistency.
Performance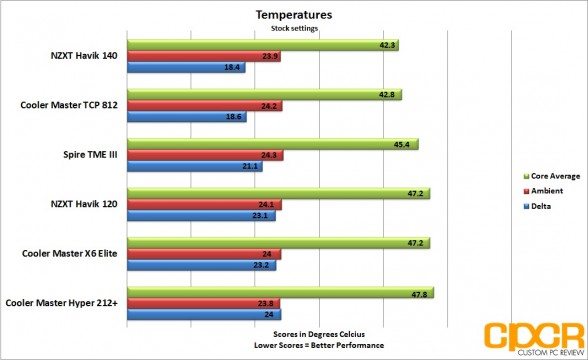 Taking a look at the performance of the two coolers on stock clocks, we can see that the NZXT Havik 120 was easily able to beat our favorite $25 budget cooler, the Cooler Master Hyper 212+. It was even able to barely out perform Cooler Master's X6 Elite as well which features six 6mm heatpipes.
The Havik 140 on the other hand was able to out perform everything on our charts. It would appear as though the combination of the additional heat pipes along with the larger fans really pushed the Havik 140 ahead of the pack.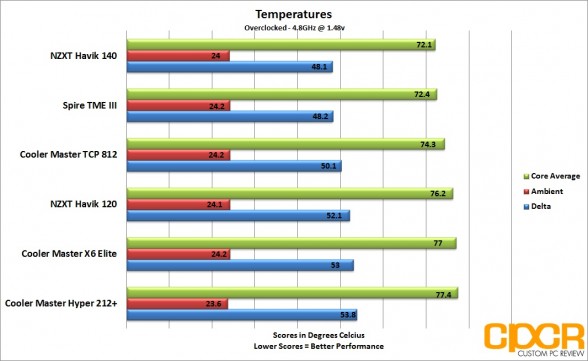 Overclocked results however, is what most of you came to see, so here I've overclocked the test system to a fairly high 4.8GHz. The Havik 120 was again able to beat the ever so popular Hyper 212+, this time by almost two degrees Celsius!
The Havik 140 on the other hand also performed exceptionally well defeating all other coolers included in our testing today. It also barely skimmed past the Spire TME III, which features smaller 120mm fans, beating it by just 0.1°C. It's within the margin of error, but nevertheless it has taken it's place as the number one cooler on our charts today.