M-Audio BX5 D2 Studio Monitor Review
Navigation:
M-Audio BX5 D2 Conclusions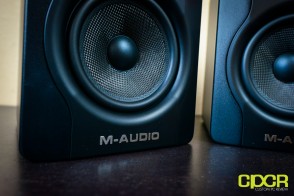 Over the years, the M-Audio name has become one synonymous with professional audio gear, and the BX5 D2 is an excellent representation of this. Out of the box, the sound signature is very flat across the entire range so those who want to hear music as the artists intended will find the BX5 D2′s very enjoyable while those who typically listen to consumer oriented speakers that emphasize the bass, the trebles, or a combination of both the bass and trebles will find that the BX5 D2′s may reveal a lot more detail in the midrange that may have been missed with poorly tuned systems.
In terms of design, the BX5 D2′s are definitely among the best looking speakers on the market. M-Audio's choice in using highly durable Kevlar woofers means that the BX5 D2′s can forego speaker grills, which not only detracts from the appearance of the speakers but may cause some interference with soundwaves passing through them.  Additionally, I'm also a huge fan of M-Audio choice in using centered tweeters as well which gives the speakers a very balanced look. The most impressive thing about the speaker's design however, is M-Audio's inclusion of a power/"sweet spot" indicator LED in the center of each speaker. This is an extremely simple, yet extremely useful feature as it really helps a lot in regards to speaker positioning since the actual "sweet spot" on these speakers is very small. Personally, I've never seen this feature on any speaker prior to the BX5 D2′s so I'd like to give credit to M-Audio for thinking outside of the box here.
While the BX5 D2′s are a fantastic choice whether you're planning to use them in a studio environment or just planning to use them as a serious audio upgrade for a desktop audio system, there are a couple things to watch out for. The biggest thing of course is the fact that these speakers will require some less common connectors such as 1/4″ TRS or balanced XLR. These are connectors that are typically used in more professional environments such as recording studios or DJ equipment and aren't commonly found on sound cards or home theater receivers. For today's testing, I picked up a Hosa CPR202 1/4″ to RCA cable for about $5.94 through Amazon, which worked without any issues, but this connection will be an unbalanced connection, so unwanted interference may occur. Your results may vary with this. Additionally, each BX5 D2 speaker needs to be individually powered, so for those of you who already have too much stuff plugged in to the power strip, this could potentially be an issue. Finally, those looking to use the BX5 D2′s as multipurpose speakers may notice that the bass response is a bit lacking with the BX5 D2′s, especially when upgrading from a 2.1 speaker system. For this, you'll want to pick up a subwoofer, but be sure to pick up something like the M-Audio SBX10 Subwoofer or be sure to have a sound card/amplifier that can simultaneously interface with both the speakers and a subwoofer.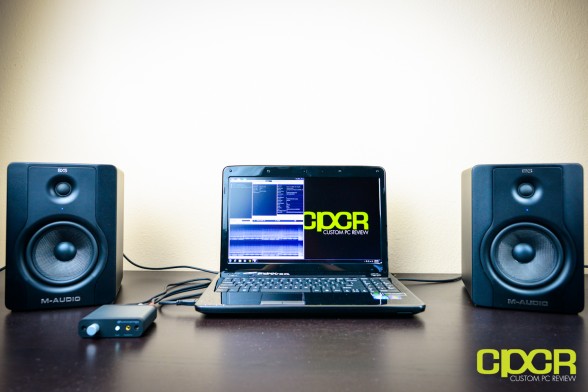 Because of the aforementioned considerations, the main thing I'd like to see M-Audio include in future revisions of the BX5 D2 is some more mainstream audio interfaces. I think the lack of more mainstream connectors may discourage a lot of potential buyers of the speakers and this would definitely be a shame as the speakers are capable of producing some absolutely stunning audio for the money.
Manufacturer's Comments

The one concern is I did have is that I feel they might be making too big a deal about the lack of 1/8″ or RCA connections on the back, because in three separate places during the review they worry that it may make connecting the units to unbalanced sources hard to do.

It would be good if they could explain a little more clearly that since the 1/4″ jacks can operate as unbalanced, it means that any local radio shack, best buy, etc will sell a pair of female RCA to male 1/4″ adapters, and with those, you can attached any standard pair of RCA to RCA, or 1/8″ to dual RCA cables, to get the speakers up and running with ant source that uses an 1/8″, or RCA outputs. If I were a reader, I might possibly be left with the impression that these speakers are not able to be used with the 1/8″ or RCA outputs of a computer soundcard, and that is definitely not the case.
Speaking of money then, current pricing on the M-Audio BX5 D2 is $232.49, which is an absolute steal for a set of entry level studio monitors like these. They sound significantly better than any set of computer speakers in this price range and are best compared with the Audioengine 5+'s, which run for $399.99, nearly double that of the BX5 D2′s. That said, the Audioengine 5+'s have far superior connectivity options and setup is far more convenient so there's tradeoffs going either way.
Bottom Line
Audio enthusiasts looking for an excellent pair of entry level studio monitors will find that the audio quality of the M-Audio BX5 D2′s unmatched in this price range.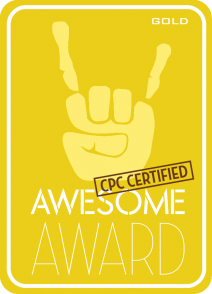 Special thanks to M-Audio for making this review possible.
The M-Audio BX5 D2 is currently available at Amazon.