M-Audio BX5 D2 Studio Monitor Review
Navigation:
M-Audio BX5 D2 Performance
Setup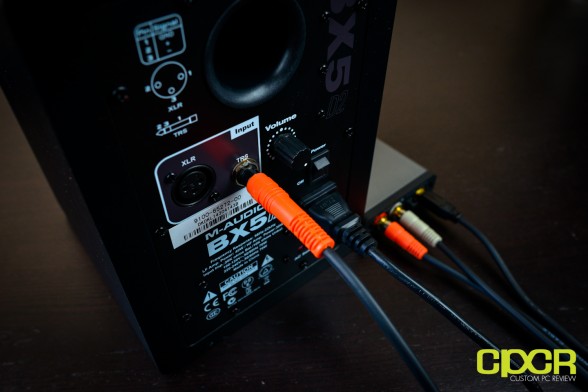 All listening tests today were conducted with the M-Audio BX5 D2 speakers connected via the RCA outputs from the Audioengine D1 DAC. All connections to the D1 DAC were made via a Hosa CPR202 1/4″ to RCA cable.
Games and Movie Listening Tests

Since the M-Audio BX5′s are designed for studio monitoring, I'm not going to go into too much detail in regards to games and movies, but I'm going to share some of my thoughts. In games, I tested the speaker quite extensively in Battlefield 3 and CS:GO, and I have to say I was very impressed with performance. Vocals came across with stunning realism and small details in the sound were accurately revealed by the speakers. Firing up Battleship with its very well done DTS 7.1 Master Audio track was a phenomenal experience with vocals feeling so realistic that you'd literally feel like you're right in the room with the characters. Now, in movies and in gaming the bass response will feel a bit lacking as this is a 2.0 speaker system with smaller speakers, so it's definitely recommended that those looking to use these speakers for movies and gaming to pick up a subwoofer. Unfortunately, this wasn't something I had the capability of testing as I didn't have a good way of interfacing my home theater oriented Emotiva Ultra Sub 12 to the BX5 D2′s. That said then, those looking to pick up a subwoofer with the BX5 D2, definitely be aware of the connectivity. As the BX5 D2′s use XLR or 1/4″ inputs, you'll need something that can easily interface with these inputs such as the M-Audio SBX10 Subwoofer or some professional grade sound card.
Music Listening Tests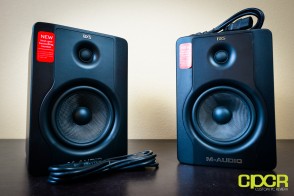 Moving into music performance then, I found the BX5 D2′s to perform exactly as expected of a studio monitor – it's very accurate and very balanced. No surprise there. After spending a couple weeks breaking the speakers in, I spent a number of days doing individual listening tests on my usual wide assortment of music from a wide variety of genres (AC/DC, Adele, George Winston, Usher, Two Steps from Hell, Metallica, etc.) and I came away feeling very impressed. Even after recently reviewing the already very good Audioengine 5+ speakers a couple weeks ago, I felt that the M-Audio BX5 D2′s just had that little extra bit of balance and refinement that sets the BX5 D2′s apart as a professional level studio monitor rather than a consumer oriented product.
Music from the entire frequency range from high to low were completely clear, even down to the very low end which produced tight, punchy bass rather than the overemphasized boomy bass that's all too popular these days. The mids, both the higher and lower end, were tuned just right so that audio coming out of the speakers sounded very natural and lifelike rather than digital and processed. Those who've never used a studio monitor before, be aware the BX5 D2′s are definitely not as forgiving towards highly compressed or lower quality music as your average $50 or $150 consumer grade 2.1 speaker system. In my testing, I noticed that when streaming movies/music online or listening to lower quality MP3′s it's much easier to notice popping, clicking, hissing or other "digitized" artifacts common in poorly encoded audio. Those unfamiliar with such revealing speakers may think it's a problem with the speakers, but it's more likely the source audio that's causing the problems.
The sound stage on the BX5 D2 is very wide and instrument separation here was superb as well. It's very easy to notice the smaller, more subtle instruments especially in orchestral or soundtrack music. The bi-amplified design on the BX5 D2 did its job well as I couldn't discern any sort of distortion throughout the entire frequency range. Even after cranking the speakers up to eardrum bursting levels, I didn't notice any distortion as well. One thing I did notice though is that the speakers do lack a bit of "oomph" on the extra low end so those of you looking for a speaker system that'll rumble your house with boomy club music, you might want to invest in a bigger set of speakers such as the larger M-Audio BX8 D2′s or a subwoofer.