M-Audio BX5 D2 Studio Monitor Review
Navigation:
A Closer Look at the M-Audio BX5 D2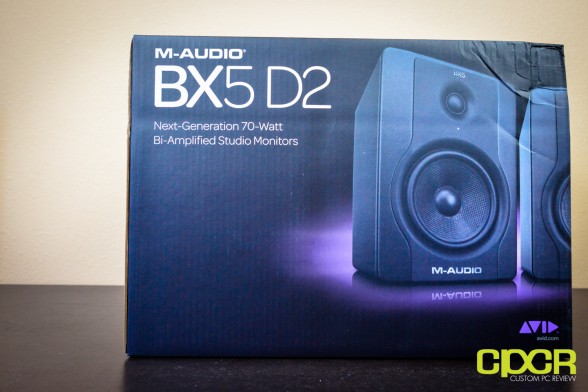 Here's a look at the packaging for the M-Audio BX5 D2. Simple and elegant. Nice.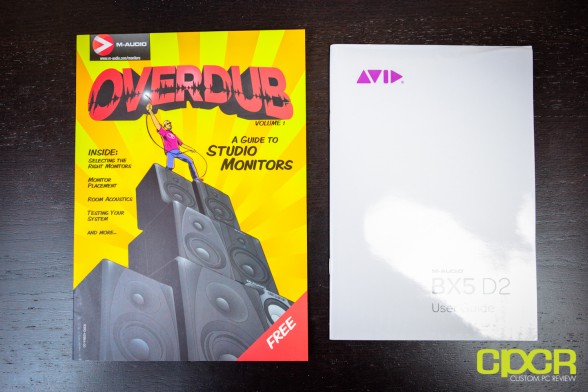 Inside, M-Audio has bundled a couple pieces of documentation. The "Overdub" guide to studio monitors is a wealth of information about literally everything you need to know to get started with studio monitors presented in a cute comic book format.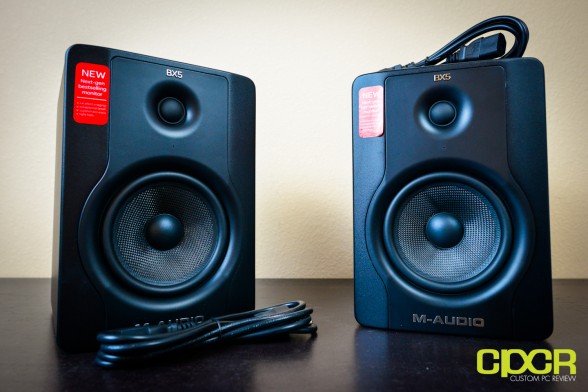 Included, we also get a couple power cords and of course, the M-Audio BX5 D2 speakers as well. Each speaker is constructed of MDF and is finished in a matte finish for resistance to dust and fingerprints. They're also shielded against EMI as well, so these speakers may be placed next to other electronics without any issue. The front of each BX5 D2 unit features a 5″ Kevlar woofer along with a 1″ silk dome tweeter.
Silk-dome, waveguide-loaded, high-frequency drivers

Our high-frequency domes are made from natural silk to counter the audible ringing that is inherent in the poorly crafted metallic materials often found in other monitors. The high-frequency driver is fully isolated from the rest of the enclosure to ensure minimum distortion, providing ultra-smooth frequency response up to 22 kHz. It also features a built-in waveguide, which offers an expansive sound stage and exceptional imaging.

Kevlar low-frequency drivers

To insure a lifetime of service, we constructed the BX5 D2 monitor's 5" low-frequency driver from woven Kevlar. Kevlar's high mechanical and thermal resilience makes it ideal for use in speaker cones. Our engineers also created a curved conical design that improves room dispersion. High-damping reliable rubber surrounds provide percussive musical bass, and insure that the cone reaches its optimal excursion for accurate reproduction. And our high-temperature voice coils reduce power compression, guaranteeing that your monitors will deliver full performance hour after hour.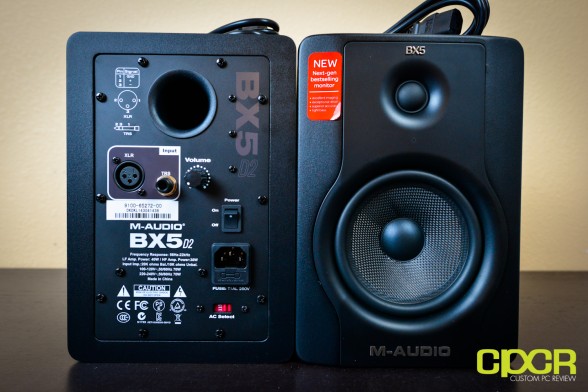 The rear of the BX5 is identical on both speakers and houses all the I/O connections along with a port for an enhanced low frequency response. This also means that you'll need to make room for two power connectors in order to use both speakers. Let's take a closer look at the I/O.
Rear-ported cabinet design

The BX5 D2 cabinet is integrally designed with its other components for optimal performance—right down to rounded corners for reduced edge diffraction and superior imaging. The custom rear port is designed to minimize air turbulence and resulting distortion while adding additional low frequency extension.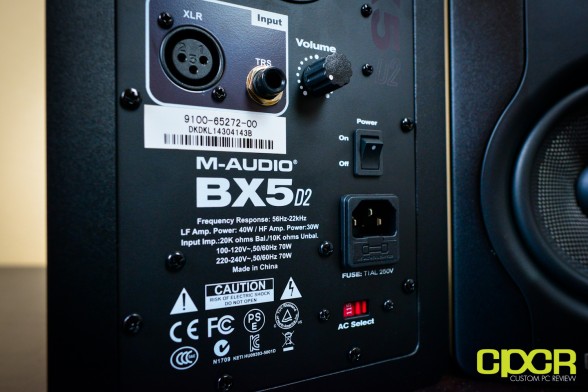 True to its designed use as professional studio monitors, the M-Audio BX5 D2′s rear I/O panel only comes with  professional level inputs, so all you'll be getting here are balanced XLR jacks and balanced/unbalanced 1/4″ jacks. This is a bummer as getting the speakers hooked up will require either professional equipment or some sort of adapter. Either way, it will require more than a simple 3.5mm to 3.5mm cable.
There's also a power switch, a power jack, AC select, and a volume knob. One thing you'll notice about the volume knob is that there aren't any detents, so it's extremely difficult to match both speakers to the same volume. That said, I definitely liked having the option of individually adjusting the volume on the speakers. As room configurations aren't always 100% ideal, I found that being able to independently adjust volumes allowed better flexibility in optimal speaker placement, which makes it a whole lot easier to get the best stereo imaging possible.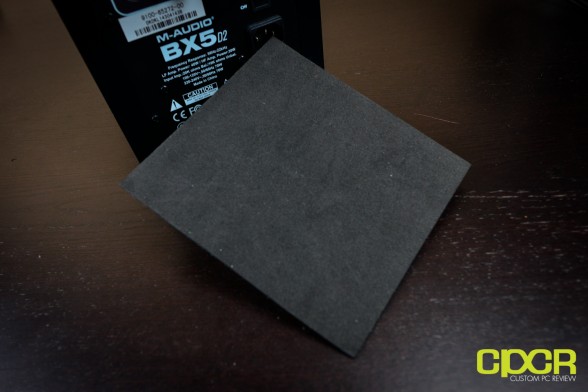 In order to achieve better speaker isolation, M-Audio has also included two small foam pads, one for each speaker. This will help reduce table vibrations; however, it is quite thin, so I'd recommend picking up something a bit more beefy if the budget allows.