Kingston HyperX Genesis: LoVo 8GB DDR3 Kit (2x4GB) Review
Navigation:
Ivy Bridge Test Bench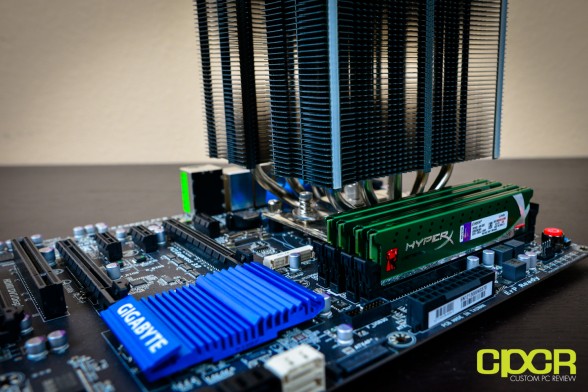 Special thanks to Gigabyte, Kingston, and HSPC for sponsoring our test bench!
Initial Setup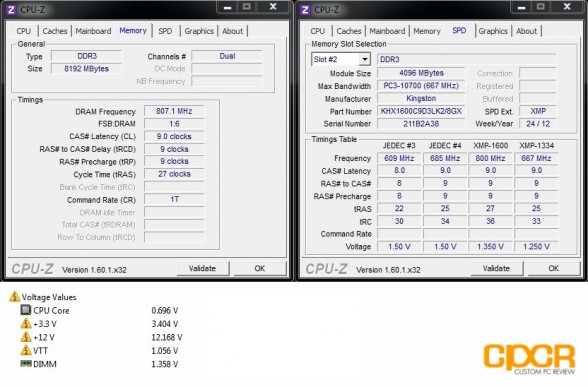 Initial setup of the memory was extremely easy as all the right settings were applied directly through the XMP profiles. In the CPU-Z screenshot above, you can see that the Gigabyte Z77X-UD3H motherboard set the memory at 1614.2MHz as it slightly boosts the clock speed a bit on memory.  Additionally, it looks like Kingston has programmed two XMP profiles into the HyperX LoVo, one running at 1600MHz 9-9-9-27 at 1.35V and another running at 1333MHz 9-9-9-25 at 1.25V. Finally, we've also got a screenshot of the readings from the sensors showing the memory running at 1.358V.
For our performance testing today, we've also included the following memory kits:
While in many of the pictures, I had 16GB of HyperX LoVo installed, for actual testing I'll only be using the standard 8GB kit (2x4GB) as Kingston doesn't actually offer a 16GB kit (4x4GB). However, those who need 16GB of memory or more will be able to purchase multiple 8GB kits (2x4GB) to fulfill additional memory requirements.