Kingston HyperX 3K 240GB SSD Review
Navigation:
HyperX Performance Without the HyperX Pricetag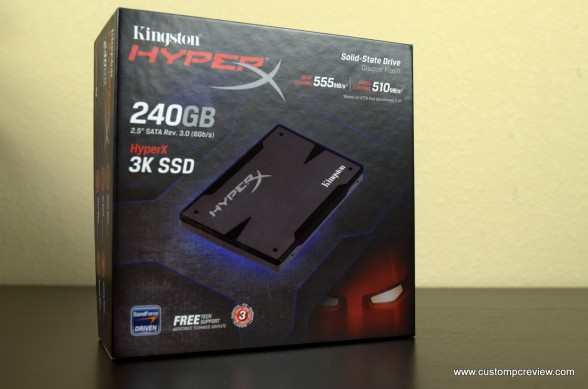 When you take a look at today's SSD market, there's no shortage of high performance SSDs. Practically every company has their own line of products, it's hard to find one that's both fast and won't break the bank. One factor contributing to higher SSD prices in enthusiast class SSDs is the use of faster toggle mode or synchronous NAND flash memory. This type of memory tends to perform much better than asynchronous NAND when it comes to working with incompressible data. The other factor of course is higher durability 5,000 P/E cycle  NAND.
Today, we'll be reviewing the Kingston HyperX 3K 240GB SSD. The new HyperX 3K line of SSDs aims to reduce the cost of entry into the world of enthusiast level SSDs, but still aims to provide the same level of performance expected of a HyperX branded product. While it still uses fast synchronous NAND, Kingston chose to include less durable NAND, rated up to 3,000 P/E cycles as opposed to the 5,000 P/E cycle NAND found in the original HyperX line of SSDs. While this may be a concern for enterprise, commercial, or business environments, this should not be a problem for most consumers who don't spend all day consuming write cycles. With the SandForce SF-2281 controller's excellent wear leveling, garbage collection, and over provisioning, it'll take many, many years for most consumers to run through 3,000 P/E cycles.
Specifications
Capacities: 90GB, 120GB, 240GB, 480GB
Sequential reads: SATA Rev. 3.0
90GB/120GB/240GB – 555MB/s
480GB – 540MB/s
Sequential writes: SATA Rev. 3.0
90GB/120GB/240GB – 510MB/s
480GB – 450MB/s
Form factor: 2.5″
Dimensions: 69.85 x 100 x 9.5mm
Operating Temperature: 0°C ~ 70°C
Storage Temperature: -40°C ~ 85°C
Vibration Operating: 2.17G
Vibration Non-Operating: 20G
MTBF: 1,000,000 Hrs