Kingston HyperX 240GB SSD Review
Navigation:
HyperX 240GB Performance
Crystal Disk Mark 3.0.1 x64
Crystal Disk Mark is another popular benchmark which allows us to measure both sequential read/write speeds as well as random read/write speeds. With this benchmark, tests can be run using both random fill (incompressible data) and 0 fill (compressible data). Realistically in typical computer usage scenarios, data being transferred will consist of a mixture of both incompressible and compressible data.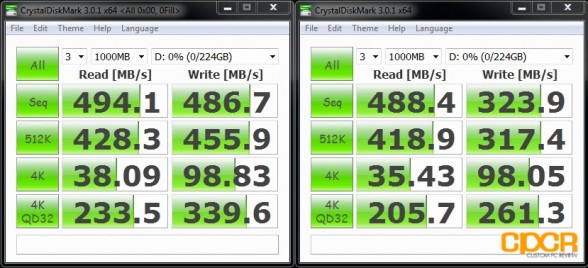 Moving into Crystal Disk Mark, it's pretty apparent this is going to be one very, very high performing SSD. What's particularly interesting here is how strong the incompressible writes are even compared to other top tier SandForce based SSDs. 4K numbers aren't too bad either with the drive's compressible and incompressible numbers looking near identical.
AS SSD Benchmark
AS SSD is a very commonly used benchmark used to measure SSD performance in a number of categories. Here, tests are run using incompressible data, which most simulate real world usage. It also outputs a final score at the conclusion of the test based off the read and write performance of the drive.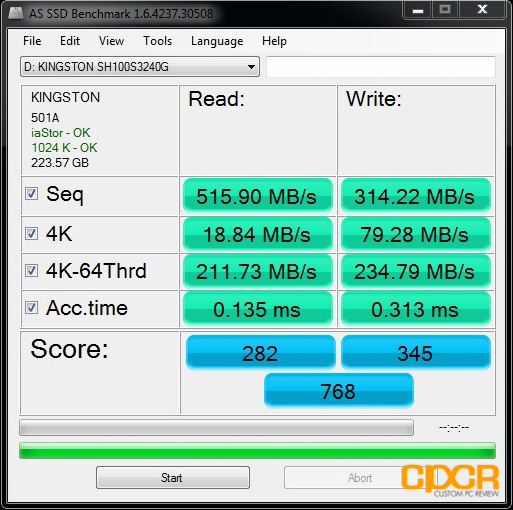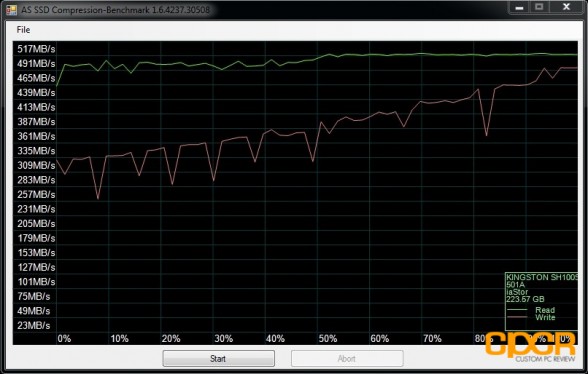 As usual, AS SSD confirms our findings in Crystal Disk Mark. What's particularly interesting about AS SSD though is its compression benchmark which we've included here as well. Similar to other SandForce based SSDs, the drive's write speeds start off fairly slow at around the 300 MB/s mark and begins to increase significantly as the data becomes more compressible.