Ineo I-NA321U+ Dual Bay Docking Station Review
Navigation:
Ineo I-NA321U+ Performance
Ivy Bridge Test Bench
Special thanks to Gigabyte, Kingston, and HSPC for sponsoring our test bench!
Testing Methodology
For our testing today, the Ineo I-NA321U+ will be connected to our Ivy Bridge test bench via the Intel controlled USB 3.0 port. All performance testing for the Ineo I-NA321U+ will be conducted using ATTO Disk Benchmark v2.46. The test is run multiple times to ensure accurate results.
Because of some inconsistencies found during testing, Crystal Disk Benchmark was also used on one of the tests to confirm results found in ATTO Disk Benchmark.
Drives Tested: 
Results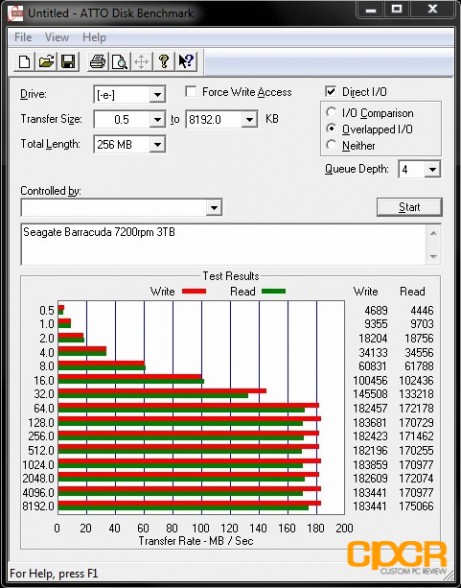 To start off, I conducted some testing using a Seagate Barracuda 7200RPM 3TB hard drive. High capacity storage drives are most likely going to be used with this dock, so I felt this was an appropriate choice here. Additionally, this also tests the dock's ability to handle 3TB drives.
As you can see above, performance here was exceptionally good with the Seagate Barracuda 3TB 7200RPM pushing 183MB/s writes and 175MB/s reads. This drive itself is only rated for about this much performance, so it seems like the I-NA321U+ is capable of maxing out the drive itself.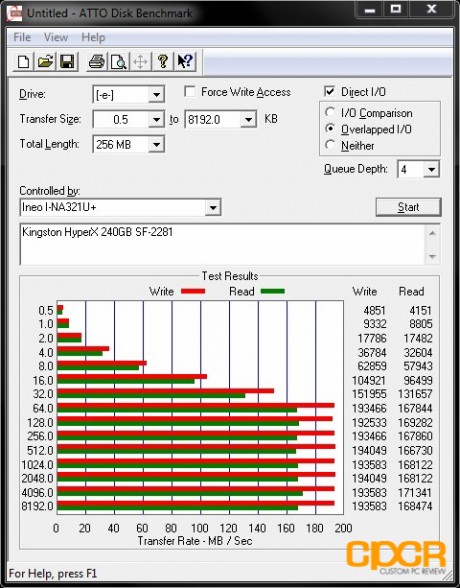 For my next test, I dropped in the Kingston HyperX 240GB which is a SandForce SF-2281 based drive, which typically excels in ATTO Disk Benchmark due to ATTO Disk Benchmark's exclusive use of compressible data for testing. Here we can see that while the dock is faster with the HyperX 240GB in sequential reads, it's actually slower than the Seagate Barracuda 3TB 7200RPM drive in sequential writes. Since the HyperX 240GB is normally capable of 500MB/s+ sequential reads and writes in ATTO Disk Benchmark over SATA 3 6Gb/s, this is definitely a limitation of USB 3.0 and the I-NA321U+.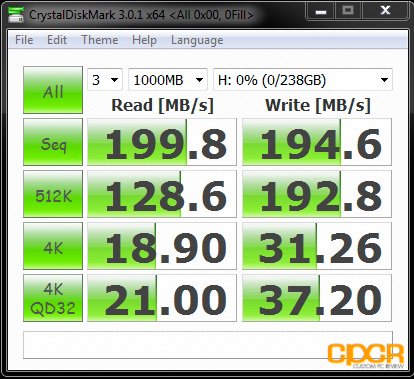 Since I wasn't satisfied with the last result, I went ahead and benchmarked a different SSD, the OCZ Vertex 4 256GB, with a different benchmark, Crystal Disk Mark. Like the Kingston HyperX 240GB, the OCZ Vertex 4 256GB is a top tier SSD capable of well over 500MB/s sequential reads and writes using compressible data over SATA 3 6Gb/s. Again, here we get more confirmation that the dock is flat out limited to about 200MB/s sequential reads and writes.
Considering the Ineo I-NA320U Plus was capable of almost 227MB/s sequential writes and 228MB/s sequential reads with an OCZ Vertex 3 128GB, it seems like there's a flaw in the I-NA321U+, which limits it to around 200MB/s.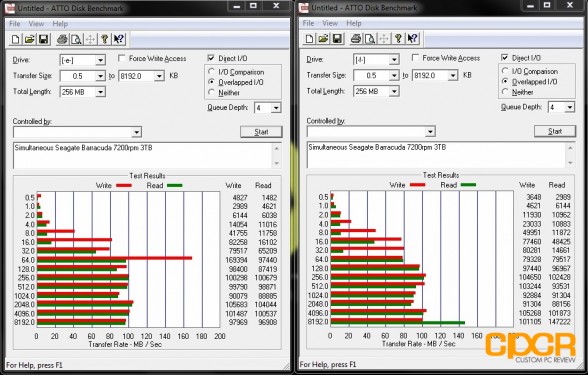 Finally, I also wanted to test the I-NA321U+'s performance when two drives are plugged into the dock, so I dropped in two Seagate Barracuda 7200RPM 3TB drives and fired up ATTO Disk Benchmark simultaneously. As you can see here, transfer rates for the most part are instantly cut in half. This suggests that the dock isn't capable of handling speeds over around 200MB/s. This is a disappointment as I really wanted to see transfer rates get closer to the USB 3.0 640MB/s theoretical maximum. About 250 MB/s is about as fast as I've seen off any USB 3.0 drive.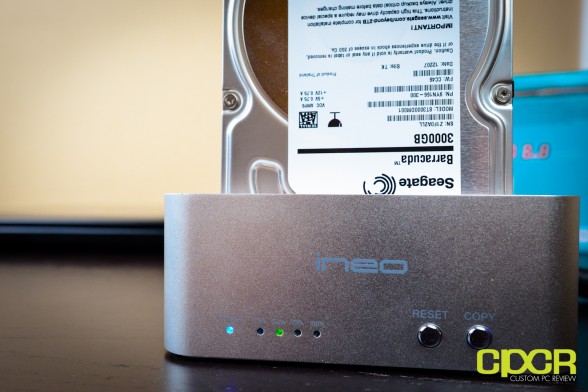 Finally, I also did some testing with the drive cloning function on the I-NA321U+ as well. Cloning the drive was overall quite easy as it's pretty much a one button affair.
The instructions were not very good when it comes to cloning the drives, so I'll explain how it works.
Remove the USB 3.0 cable and plug the dock into the power cable only.
With both drives plugged in (source drive to the rear slot and target drive into the front slot), power the unit on.
Hold the "copy" button for 4 seconds. The rear drive will spin up, the front drive will spin up and the 4 LED lights up front (25%, 50%, 75%, 100%) will begin flashing in progression starting from the 25% LED moving to the 100% LED like a status indicator bar. You do not need to press the clone button twice as indicated by the users manual. This caused me to believe there was a malfunction in the unit despite the fact that it was working perfectly fine.
After each stage of cloning (25%, 50%, 75%, 100%), the status indicator LEDs for each of these LEDs will stay solid.
I attempted cloning one of my 3TB drives with only 500GB loaded on. The cloning took an extremely long time, which suggested to me that the dock's drive cloning function works by doing a sector for sector type of cloning so it was actually cloning the full 3TB drive despite most of the drive being empty. While this takes a long time, it may (assumption only so don't take my word for it) help recover dying hard drives that have files unreadable by the Windows OS. This should be extremely useful to those who work in IT or computer repair.