Gigabyte Z77X-UD3H Motherboard Review
Posted June 2, 2012 by Tom Li in
Reviews
Navigation:
Mid-Range Price, High End Features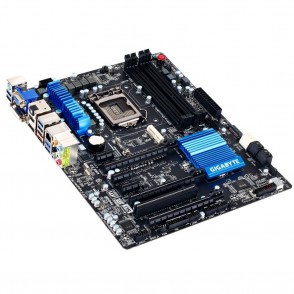 Only introduced a couple of months ago, Z77 boards have become all the hype these days. Sporting all the features of the Z68 chipset and a bit more, the Z77 chipset is looking to kick things up a notch with native USB3.0 support (up to 4) , Rapid Start for faster boot times, Smart Connect to keep web pages refreshed while your computer sleeps, and more. Of course, for many of these features such as native USB 3.0 support, an Ivy Bridge processor is required; however, Z77 motherboards will have full support for any LGA 1155 CPU, so both Ivy Bridge and Sandy Bridge processors will apply.
Today we'll be doing reviewing Gigabyte's new Z77X-UD3H motherboard. This mid-range Z77 (Panther Point) based motherboard has all the new features included with the Z77 chipset as well as a couple new Gigabyte specific features thrown in as well such as 3D Power, 3D BIOS, and Ultra Durable 4 which Gigabyte claims will provide high temperature protection, humidity protection, electrostatic protection, and power failure protection. Additionally included is Lucid's new Virtu'sMVP technology, which combines the horsepower of the on-board GPU with the discrete GPU to provide better performance.
Specifications
CPU

Support for Intel® Core™ i7 processors/Intel® Core™ i5 processors/ Intel® Core™ i3 processors/Intel® Pentium® processors/Intel® Celeron® processors in the LGA1155 package
L3 cache varies with CPU

(Some Intel® Core™ processors require a graphic card, please refer "CPU support List" for more information.)

Chipset

Intel® Z77 Express Chipset

Memory

4 x 1.5V DDR3 DIMM sockets supporting up to 32 GB of system memory* Due to Windows 32-bit operating system limitation, when more than 4 GB of physical memory is installed, the actual memory size displayed will be less than 4 GB.
Dual channel memory architecture
Support for DDR3 2666(OC)/1600/1333/1066 MHz memory modules
Support for non-ECC memory modules
Support for Extreme Memory Profile (XMP) memory modules

(Please refer "Memory Support List" for more information.)

Onboard Graphics
Chipset:

1 x D-Sub port
1 x DVI-D port, supporting a maximum resolution of 1920×1200* The DVI-D port does not support D-Sub connection by adapter.
1 x HDMI port, supporting a maximum resolution of 1920×1200
1 x DisplayPort, supporting a maximum resolution of 2560×1600

Audio

VIA VT2021 codec
High Definition Audio
2/4/5.1/7.1-channel
Support for S/PDIF Out

LAN

Atheros GbE LAN chip (10/100/1000 Mbit)

Expansion Slots

1 x PCI Express x16 slot, running at x16 (PCIEX16)* For optimum performance, if only one PCI Express graphics card is to be installed, be sure to install it in the PCIEX16 slot.

1 x PCI Express x16 slot, running at x8 (PCIEX8)(The PCIEX16 and PCIEX8 slots conform to PCI Express 3.0 standard.)* The PCIEX8 slot shares bandwidth with the PCIEX16 slot. When the PCIEX8 slot is populated, the PCIEX16 slot will operate at up to x8 mode.* PCIE Gen.3 is dependent on CPU and expansion card compatibility.

1 x PCI Express x16 slot, running at x4 (PCIEX4)* The PCIEX4 slot shares bandwidth with all PCI Express x1 slots. All PCI Express x1 slots will become unavailable when a PCIe x4 expansion card is installed.

3 x PCI Express x1 slots(The PCIEX4 and PCI Express x1 slots conform to PCI Express 2.0 standard.)

1 x PCI slot

Multi-Graphics Technology

Support for 2-Way AMD CrossFireX™/NVIDIA SLI technology (PCIEX16 and PCIEX8)

Storage Interface
Chipset:

2 x SATA 6Gb/s connectors (SATA3 0/SATA3 1) supporting up to 2 SATA 6Gb/s devices
4 x SATA 3Gb/s connectors (SATA2 2~5) supporting up to 4 SATA 3Gb/s devices
1 x mSATA connector* The SATA2 5 connector will become unavailable when the mSATA connector is installed with a solid state drive.
Support for RAID 0, RAID 1, RAID 5, and RAID 10* When a RAID set is built across the SATA 6Gb/s and SATA 3Gb/s channels, the system performance of the RAID set may vary depending on the devices being connected.

Marvell 88SE9172 chip:

2 x eSATA 6Gb/s connectors on the back panel supporting up to 2 SATA 6Gb/s devices
Support for RAID 0 and RAID 1

USB
Chipset:

Up to 4 USB 3.0/2.0 ports (2 ports on the back panel, 2 ports available through the internal USB header)* In Windows XP, the Intel USB 3.0 ports can support up to USB 2.0 transfer speed.
Up to 6 USB 2.0/1.1 ports (available through the internal USB headers)

VIA VL800 chip:

Up to 4 USB 3.0/2.0 ports on the back panel* Due to a Windows 7 limitation, please connect your USB device(s) to the Intel controlled USB port(s) (located below the RJ-45 LAN port) before the VIA USB 3.0 controller driver is installed.

Internal I/O Connectors

1 x 24-pin ATX main power connector
1 x 8-pin ATX 12V power connector
1 x PCIe power connector
2 x SATA 6Gb/s connectors
4 x SATA 3Gb/s connectors
1 x mSATA connector
1 x CPU fan header
4 x fan headers
1 x front panel header
1 x front panel audio header
1 x S/PDIF Out header
3 x USB 2.0/1.1 headers
1 x USB 3.0/2.0 header
1 x Clear CMOS jumper
1 x Trusted Platform Module (TPM) header
1 x power button
1 x reset button
1 x Clear CMOS button
1 x Voltage Measurement Points
1 x BIOS Switch

Back Panel Connectors

1 x PS/2 keyboard/mouse port
1 x D-Sub port
1 x DVI-D port
1 x optical S/PDIF Out connector
1 x HDMI port
1 x DisplayPort
2 x eSATA 6Gb/s connectors
6 x USB 3.0/2.0 ports
1 x RJ-45 port
6 x audio jacks (Center/Subwoofer Speaker Out, Rear Speaker Out, Side Speaker Out, Line In/Mic In, Line Out)

I/O Controller

iTE I/O Controller Chip

H/W Monitoring

System voltage detection
CPU/System temperature detection
CPU/System fan speed detection
CPU overheating warning
CPU/System fan fail warning
CPU/System fan speed control* Whether the CPU/system fan speed control function is supported will depend on the CPU/system cooler you install.

BIOS

2 x 64 Mbit flash
Use of licensed AMI EFI BIOS
Support for DualBIOS™
PnP 1.0a, DMI 2.0, SM BIOS 2.6, ACPI 2.0a

Unique Features

Support for @BIOS
Support for Q-Flash
Support for Xpress Install
Support for Xpress Recovery2
Support for EasyTune* Available functions in EasyTune may differ by motherboard model.
Support for eXtreme Hard Drive (X.H.D)
Support for Auto Green
Support for ON/OFF Charge
Support for Q-Share
Support for 3D Power
Support for LAN Optimizer (Intelligent optimization network management tool)

Bundle Software

Norton Internet Security (OEM version)
Intel® Rapid Start Technology
Intel® Smart Connect Technology
Intel® Smart Response Technology
LucidLogix Virtu MVP* Make sure the monitor cable has been connected to the integrated graphics port on the back panel.

Operating System

Support for Microsoft® Windows 7/XP

Form Factor

ATX Form Factor; 30.5cm x 24.4cm